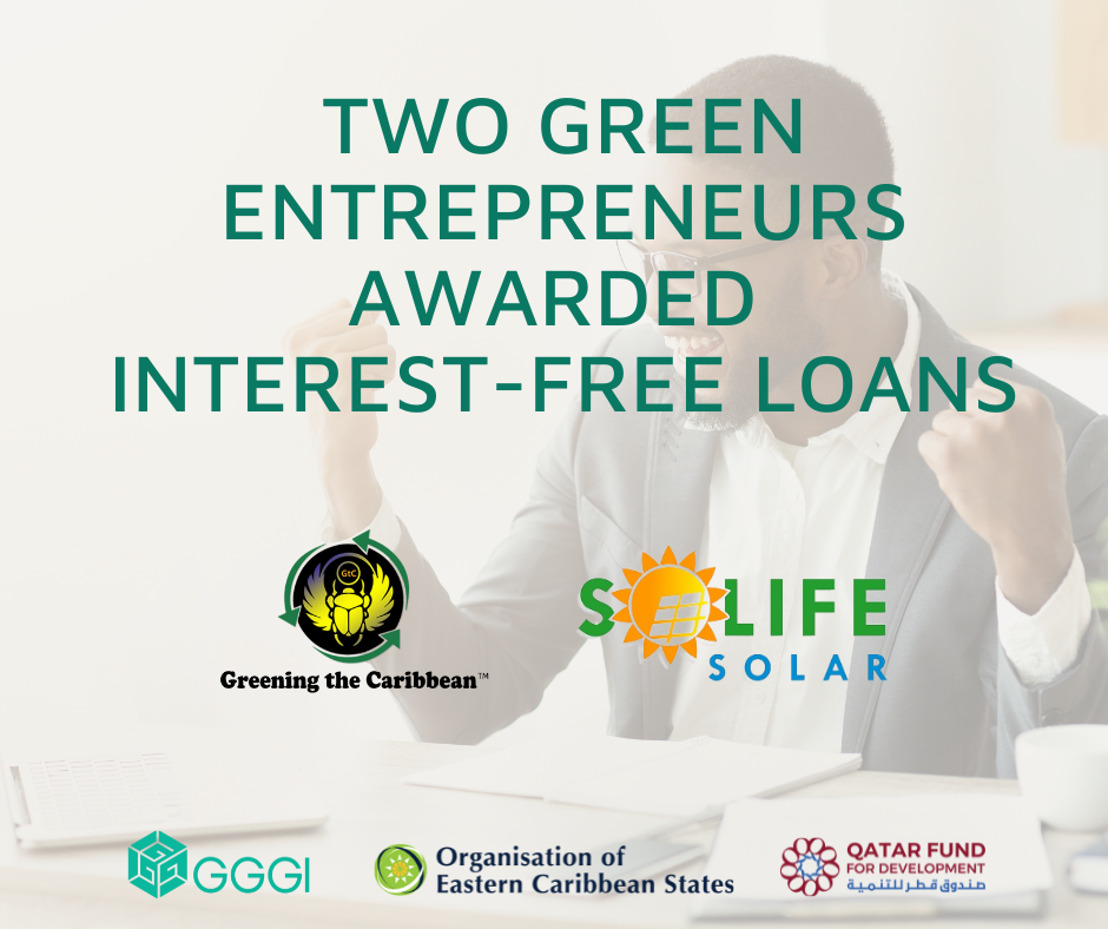 Two Green Entrepreneurs Awarded Interest-Free Loans under the Eastern Caribbean Greenpreneurs Accelerator Program
Joint Media Release courtesy GGGI and OECS
Friday, April 28, 2023 — The Eastern Caribbean Green Entrepreneurship Initiative is proud to announce the first recipients of interest-free loans under its Accelerator Program. Two green entrepreneurs were selected from a competitive pool of applicants to receive funding and support to grow their businesses and continue to contribute to the region's sustainable development.
The two entrepreneurs awarded interest-free loans are:
Wayne Neale, Greening the Caribbean, Saint Lucia – An environmental management business that provides waste management and recycling services.
Ricardo Boatswain, Solife Inc., St. Vincent & the Grenadines – A 100% solar service company that provides installation, financing and monitoring for all solar PV products.
The Eastern Caribbean Green Entrepreneurship Initiative is delighted to support these innovative and inspiring entrepreneurs who are showing that it is possible to build profitable businesses while also advancing environmental sustainability.
This initiative's Accelerator Program targets high-potential green enterprises in their growth stage. It provides access to capital (up to USD 50,000 in interest-free loans), investment opportunities, and continued learning which helps scale these businesses to maximize profitability and impact. The program is part of the broader effort to foster a vibrant ecosystem of green entrepreneurship in the Eastern Caribbean, one that can drive economic growth while advancing environmental sustainability and social inclusiveness.
"We believe that green entrepreneurship can be a powerful force for positive change in the Eastern Caribbean, and we are committed to supporting the growth and successes of these two entrepreneurs and others like them," said Dr. Kristin Deason, GGGI's Caribbean Representative.
The Eastern Caribbean Green Entrepreneurship Initiative is funded by the Qatar Fund for Development and implemented by the Global Green Growth Institute in partnership with the Organisation of Eastern Caribbean States. This regional program aims to foster and facilitate the development, establishment, and growth of innovative green enterprises in six (6) Protocol OECS Member States namely, Antigua and Barbuda, Dominica, Grenada, St. Kitts and Nevis, Saint Lucia, and Saint Vincent and the Grenadines.
To learn more about this program, visit this website https://bit.ly/ECGreenpreneursAccelerator. The second call for applications will be announced this week. Click here to join our mailing list to keep informed.
****************************************************************************************
About the Global Green Growth Institute (GGGI)
Based in Seoul, GGGI is a treaty-based international, inter-governmental organization- with 44 Members and over 20 countries and regional integration organization(s) in the process of accession - dedicated to supporting and promoting strong, inclusive, and sustainable economic growth in developing countries and emerging economies. With operations in over 30 countries, GGGI serves the role of an enabler and facilitator of Members' transition into a low-carbon green economy, providing policy advice and technical support in the development of green growth plans, policies and regulations, mobilization of green investments, implementation of green growth projects, and development of local capacities and knowledge sharing. Further information on GGGI's events, projects and publications can be found on www.gggi.org.
About the Global Green Growth Institute (GGGI) - Caribbean
The OECS is a Member of GGGI as a regional body. This membership allows GGGI to work in close partnership with the OECS Commission at the regional level, as well as directly with the governments of the 11 OECS member states at the national level. GGGI maintains an embedded staff presence at OECS headquarters in Saint Lucia and to date has delivered programs in partnership with the governments of Grenada, Dominica, Antigua and Barbuda, and Saint Lucia. Further information can be found at https://www.gggi.org/country/caribbean
About the Organisation of Eastern Caribbean States (OECS)
The Organisation of Eastern Caribbean States is an international organisation dedicated to economic harmonisation and integration, protection of human and legal rights, and the encouragement of good governance among independent and non-independent countries in the Eastern Caribbean comprising Antigua and Barbuda, Commonwealth of Dominica, Grenada, Montserrat, St. Kitts and Nevis, Saint Lucia, Saint Vincent and the Grenadines, British Virgin Islands, Anguilla, Martinique and Guadeloupe.
Dinesh Daswani Communications, Green Growth Planning, and Implementation, Global Green Growth Institute (GGGI) - Caribbean
Nyus Alfred Communications Officer, Organisation of Eastern Caribbean States
OECS Communications Unit Organisation of Eastern Caribbean States