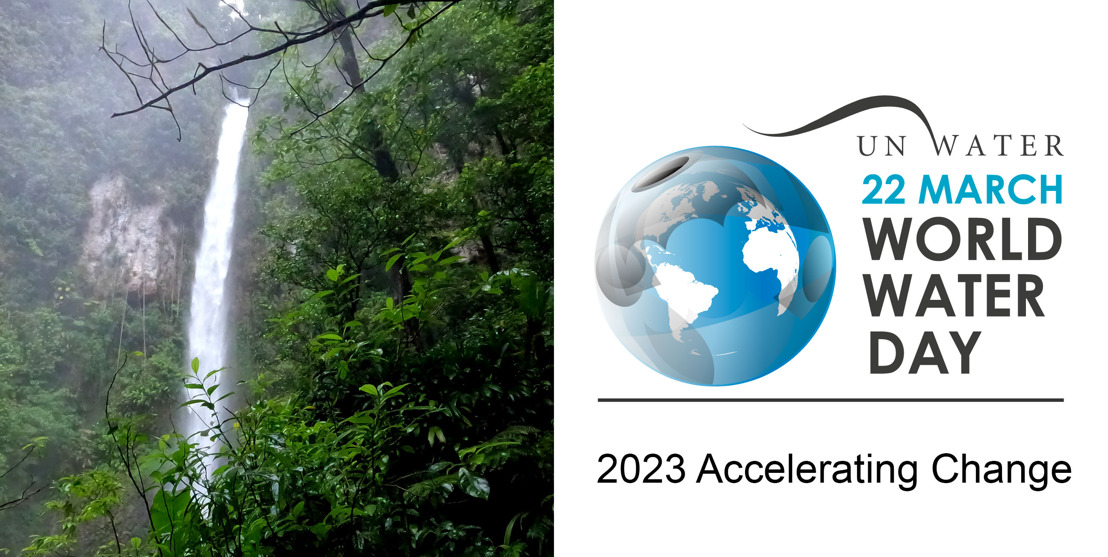 The OECS Recognises World Water Day 2023
OECS Media Release
March 22, 2023 — The OECS observes World Water Day, 2023, celebrated annually on March 22, promoting this year's theme, Accelerating change to solve the global water and sanitation crises. In 2015, as part of the 2030 Agenda, the world committed to Sustainable Development Goal (SDG) 6: water and sanitation for all by 2030. Unfortunately, the progress to date has been woefully slow.
The OECS Commission recognises the need to accelerate progress in water and sanitation throughout the region and is implementing projects with various partners to enhance water security through the installation of water infrastructure and the support of healthy and resilient biodiversity and ecosystems. Our region's Small Island Developing State (SIDS) are surrounded by serene bodies of water. However, there are threats to freshwater for drinking, cooking, washing, hygiene and sanitation. Due to the interconnected nature of our islands' landscapes, activities in upper watershed areas inevitably impact rivers, aquifers and ultimately, the coastal and marine environment. Unsustainable practices in agriculture, construction and industry contribute to the pollution of waterways, while indiscriminate use of water increases the demand for already scarce resources.
Projections of reduced rainfall and increased temperatures as a result of climate change will impact the amount of water which can be collected and stored in aquifers, rivers, lakes and dams. If freshwater becomes unavailable, seawater can be desalinated by some countries to produce potable water; however, this process is energy-intensive, driving up the cost of production of water, and this cost may be transferred to the consumer. With an anticipated increase in population, change in consumption patterns and increased food demands, water demand is expected to increase. It is therefore critical to consider integrated management of land and water resources for sustainable development within SIDS.
The Integrated Landscape Approaches and Investments in Sustainable Land Management in the OECS Project (ILM) and the Biodiversity Support for ACP Coastal Environments Project (BioSPACE), are both funded by the European Union, and they include the development of policies as well as the implementation of on the ground interventions to enhance water quality and contribute to healthy and resilient ecosystems.
Additionally, through the Integrating Water, Land and Ecosystems Management in Caribbean Small Island Developing States (IWEco) Project, funded primarily by the Global Environment Facility (GEF), with significant Co-financing from the United Nations Environment Programme (UNEP), the United Nations Development Programme (UNDP), and other Partners, the OECS Commission is collaborating with the Caribbean Public Health Agency to implement initiatives to improve decision-making for integrated water resources management. These include the development of a Regional Environmental Monitoring Data Portal for the IWEco Participating States, including five OECS Member States, the development of a Water Information System for St. Kitts and Nevis, and the development of an Action Framework for Integrated Water Resources Management for the CARICOM Region.
Through the EU-GCCA+ programme focused on Enhancing Climate Resilience in CARIFORUM Countries, the Commission has partnered with the Caribbean Community Climate Change Centre to implement on the ground water investment initiatives in Saint Lucia, geared at increasing water availability and water quality through enhanced storage, catchment rehabilitation, and optimized water abstraction. ​ Students and teachers at the Plain View Combined School, as well as community members within La Retraite, now have a reliable source of water during the dry season and for emergency situations. The quantity and quality of available water in the Vanard catchment and within the Des Barras community will be enhanced through a combination of nature-based solutions in the form of tree and vetiver planting for river bank protection, and grey infrastructure including an improved intake and a solar-powered water treatment plant.
The responsibility for clean water and sanitation lies with every individual. The time to act is now. Each person, community, organisation, company, and government has a responsibility for the way water is consumed, used and managed. We can work together to ensure that we have a water-secure future.
---
Danny Moonie Communications / Knowledge Management Specialist, Organisation of Eastern Caribbean States