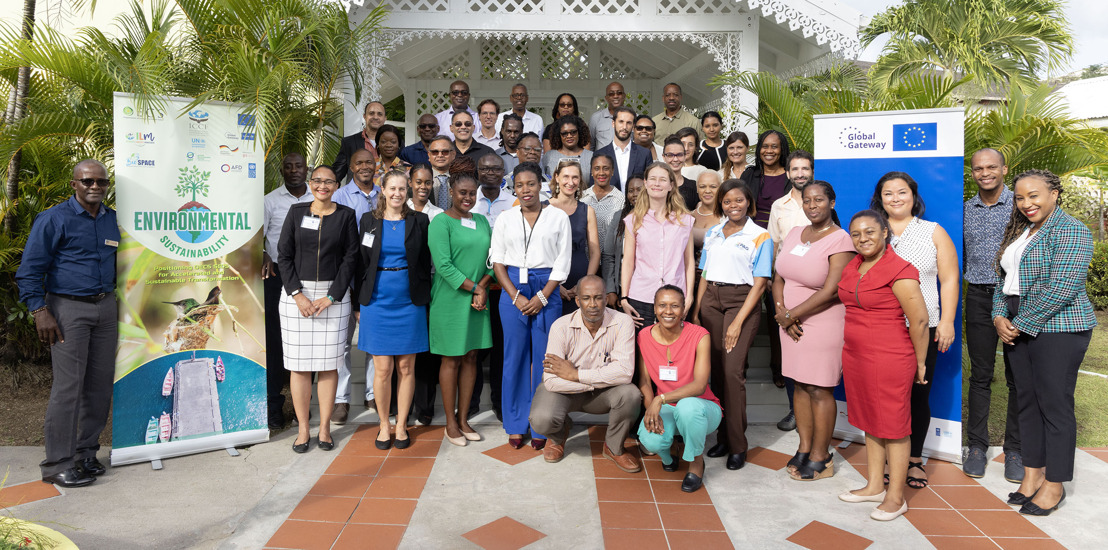 The OECS, EU and ICCF hosted successful Environmental Sustainability Conference in Saint Lucia
Joint Media Release - OECS, European Union and ICCF
June 26, 2023 — The future of the Caribbean Region – both socially and economically – depends heavily on the conservation and proper management of the environment. The Organisation of Eastern Caribbean States (OECS), in partnership with the European Union (EU) and the International Conservation Caucus Foundation (ICCF), hosted an Environmental Sustainability Conference at the Bay Gardens Hotel in Saint Lucia from June 13-15, using a hybrid modality. The theme for the Conference was, "Positioning OECS SIDS for Accelerated and Sustainable Transformation."
This meeting was in preparation for the 10th Council of Ministers Meeting on Environmental Sustainability (COM:ES-10) in July 2023. Head of the OECS Environmental Sustainability Division, Mr. Chamberlain Emmanuel, told the participants," We are here to help shape and reshape priorities, approaches and mechanisms that will influence and guide how the regional integration architecture through the OECS Council of Ministers for Environmental Sustainability will deliver its mandate in collaboration with Member States, partners and stakeholders. Our wish is for open and full engagement, transparent and constructive criticism, practical recommendations, innovative approaches, and enhancement of impactful solutions and partnerships."
Dr. Jamie Cavelier, Vice President for Strategic Partnerships at ICCF Group and former Senior Biodiversity Specialist at the Global Environment Facility (GEF), gave a clarion call in his feature address to the participants. "It is in the interest of governments to realise that funding for nature is an investment, not an expense." He added that if investments in natural capital are not made right now, the social and economic costs increase in the future and will "disproportionately impact the poor women and children … Investments made now will reduce resource requirements in the future."
A feature segment of the Conference was the consideration of a draft COM:ES Roadmap to 2030 which seeks to propose an agenda of priority regional actions and approaches to be considered and championed by Ministers, and considerations for enhanced effectiveness of the COM:ES mechanism.
Euroclima, the EU's flagship Programme on climate action under the Global Gateway strategy, with its implementing partners, Expertise France, GIZ and UNDP, facilitated a participatory Partners Springboard for greater collaboration and effectiveness in the region. Luca Trinchieri, Team Leader for Green Deal Partnership of the EU Delegation for Barbados and the Eastern Caribbean in his introduction of the Springboard disclosed that "Euroclima is part of the EU's Global Gateway strategy to support a green, digital, sustainable, equitable transition through investments in areas like energy, resilience, and digital infrastructure."
The Springboard yielded recommendations for consideration by the Council of Ministers on coordinated and cross-sectorial engagement; enhanced communication, knowledge management and capacity development; and involvement of the finance and private sectors. Euroclima was identified as a potential mechanism to support the above-mentioned needed coordination, thanks to its "integrated approach and the wide variety of partners that complement each other and enriches the programme with expertise and competencies," as mentioned by Trinchieri.
Another critical segment on Sustainable Financing Mechanisms (SFM) examined the findings of an SFM assessment conducted by expertise from 17 Assets Management. The results indicated that "there are a lot of resources to finance sustainable development in the region, but the reality is that because of the number of players, their distinct objectives, and unique operational profiles, the current landscape is extremely complex." "OECS Member States still have difficulty taking advantage of these financing mechanisms" according to Senior Adviser with the firm, Mr. Christian Wayne. The assessment outlined several recommendations on the way forward, which included optimising the existing ecosystem and the engagement approach, which can potentially unlock untapped resources from the current financing ecosystem(s).
On the final day of the meeting, the International Conservation Caucus Foundation (ICCF) hosted its inaugural OECS Regional Conservation Caucus Co-Chairs meeting, during which Parliamentarians from four OECS Member States dialogued with counterparts from Africa, UK, USA and Latin America, and the ICCF leadership, on shared issues and opportunities. The Caucus meeting climaxed with the signing of the protocol to launch the Saint Lucia National Conservation Caucus. The Caucus has committed to the implementation of the Advancing Conservation in the Eastern Caribbean Project funded by the United Nations Environment Programme (UNEP), and the Global Environment Facility (GEF).
The Conference resulted in several favourable outcomes, which the OECS and its partners will take forward to the next meeting of the Council of Ministers (COM:ES 10)to be convened in Anguilla during 12-13 July 2023.
Danny Moonie Communications / Knowledge Management Specialist, Organisation of Eastern Caribbean States
OECS Communications Unit Organisation of Eastern Caribbean States