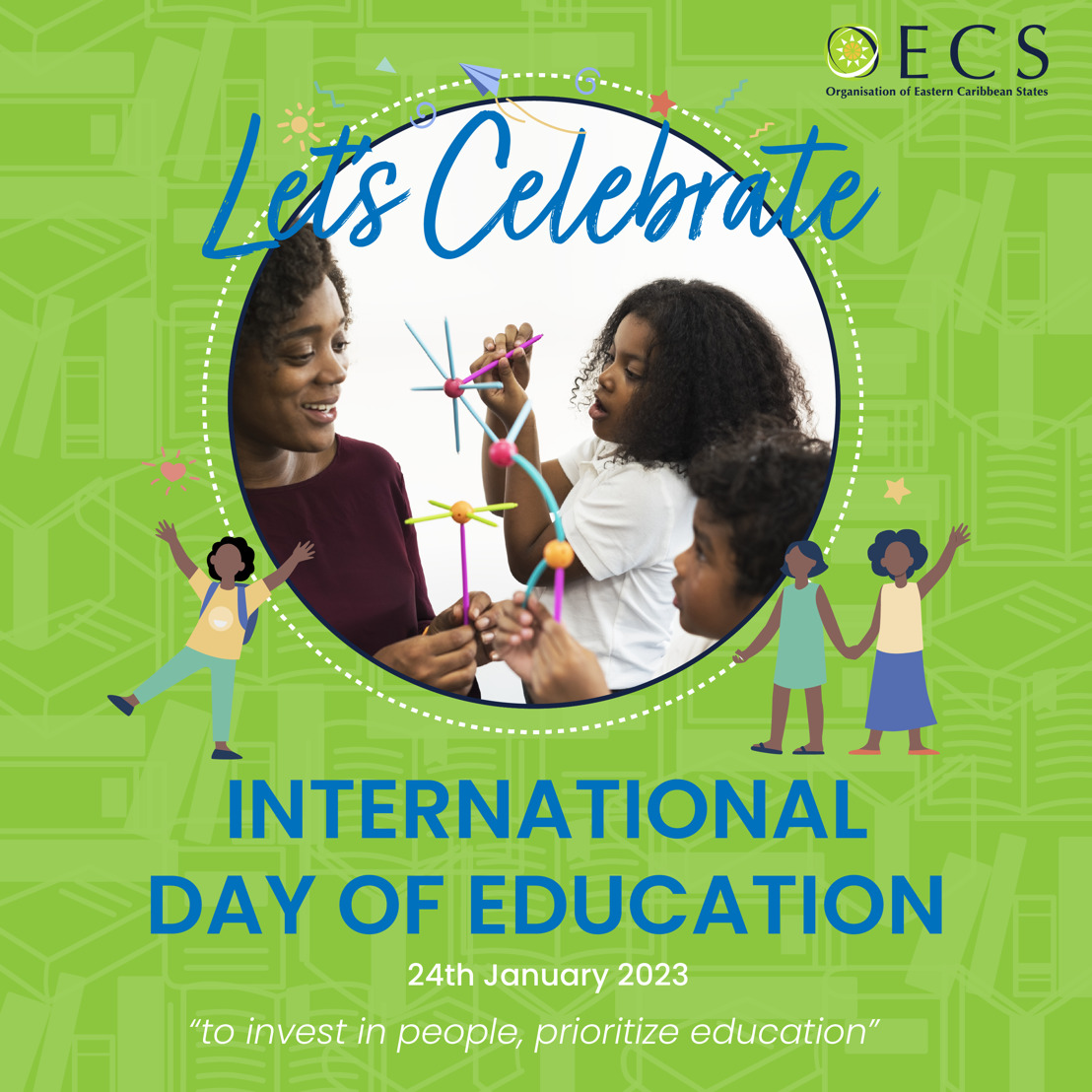 The OECS Celebrates International Day of Education
OECS Media Release
Tuesday, January 24, 2023 — As we observe the fifth International Day of Education under the theme "to invest in people, prioritize education", the Organisation of Eastern Caribbean States (OECS) Commission celebrates leaders of education, principals, teachers, early childhood educators, special education needs specialists, parents and students across the region who continue to demonstrate resilience and commitment to the goals of education in the face of natural disasters as well as other challenges and constraints. We also celebrate the significant investments that have been made by all stakeholders who continue to prioritizie investments in education and the youth of our region to ensure that every learner succeeds irrespective of challenges.
The OECS Commission remains committed to:
Strengthening the region's education systems and contributing to sustainable development and economic advancement in keeping with the Revised Treaty of Basseterre; and
The attainment of Sustainable Development Goal 4 (SDG 4) which aims to "ensure inclusive and equitable quality education and promote lifelong learning opportunities for all."
One of the major activities currently being undertaken by the OECS at the regional level is the development of a Harmonized Primary Curriculum which will respond to the most recent instructional demands for learning in this digital era and produce lifelong learners who are competent in a wide range of content areas and equipped with a comprehensive range of life skills. With the support of partners such as UNICEF, USAID and GPE, the OECS is currently building capacity in the areas of open educational resources (OERs) and content development among teachers, through online courses, as well as increasing access to early childhood education (ECE) through the creation and resourcing of state -of-the-art ECE spaces in Member States, and the provision of training to ECE leaders and caregivers.
The prioritization of special education needs is also high on the agenda. The OECS Commission continues to support students with special education needs (SEN) by collecting regional data on special education needs and through the provision of assistive devices to facilitate the education and development of special needs students.
As we mark International Day of Education 2023, The OECS Commission reiterates its commitment to strengthening education in the region, and expresses its gratitude to all educational partners and stakeholders for their past, present and ongoing collective efforts to enhance the region's education system so that every learner succeeds.
Malika Thompson-Cenac Communications Specialist, Organisation of Eastern Caribbean States
OECS Communications Unit Organisation of Eastern Caribbean States