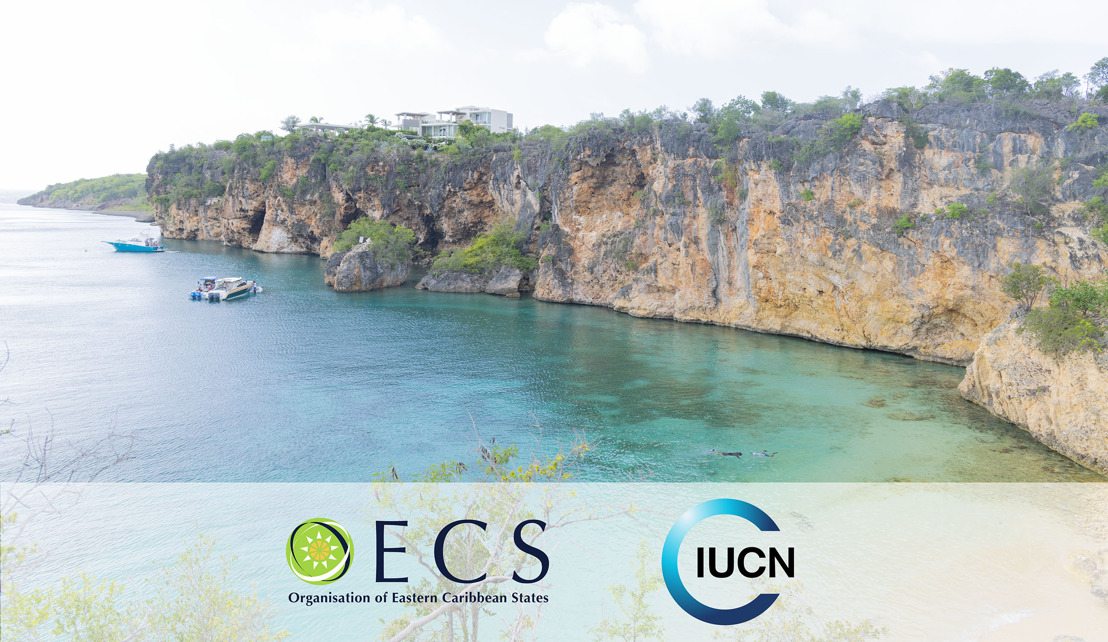 The OECS and IUCN Reaffirm their shared commitment to Environmental Sustainability through a new MoU
Media Release Courtesy IUCN
July 12, 2023 — In the sidelines of the 10th OECS Council of Ministers Meeting on Environmental Sustainability, Mrs. Úrsula Parrilla, Regional Director for Mexico, Central America and the Caribbean of the International Union for Conservation of Nature (IUCN) and Mr. Didacus Jules (PhD), Director General of the Organisation of Eastern Caribbean States (OECS), signed a Memorandum of Understanding (MoU) which defines strategic areas of cooperation between both organisations, towards joint integrated responses for sustainability, resilience and prosperity in OECS Member States.
Created in 1948, IUCN is the world's largest and most diverse environmental network, harnessing the knowledge, resources and reach of more than 1,400 Member organisations and 15,000 experts. Its mission is to influence, encourage and assist societies throughout the world to conserve the integrity and diversity of nature and to ensure that any use of natural resources is equitable and ecologically sustainable. ​
The Organisation of Eastern Caribbean States (OECS) is an Inter-governmental Organisation dedicated to regional integration in the Eastern Caribbean and aiming at achieving a better quality of life for its people, by driving and supporting sustainable development through regional integration, collective action and development cooperation.
Having engaged in substantial technical and scientific cooperation activities within the framework of a previous 5-year Memorandum of Understanding (MoU) signed on 4 February 2020 and recognizing the benefits that each may derive from their mutual collaboration, both parties reaffirm their shared commitment with the signature of a new MoU for the period 2023-2028. This agreement will allow the OECS and the IUCN to expand collaboration and guide the cooperation between both parties in different areas related to environmental sustainability, such as: regional environmental information systems; biodiversity and ecosystems conservation; plastic waste management and reduction; promotion of green, blue and circular economy approaches; protected areas management, amongst others.
IUCN's presence in the Caribbean began to take shape as early as 2003. Currently, IUCN's Caribbean membership comprises 18 member organisations, two of them (SOS Faune Savage in Guadeloupe and the Saint Lucia National Trust) in OECS Member States. The Caribbean is also represented in IUCN's Commissions by over 100 experts, over two thirds of which are supporting the World Commission on Protected Areas and the Species Survival Commission. Through both global initiatives with intervention in the Caribbean, as well as through national and regional projects coordinated by the IUCN Regional Office for Mexico, Central America and the Caribbean (ORMACC), IUCN currently manages a project portfolio of over USD 12.9 million in the Caribbean region.
IUCN's work in the Caribbean region is fully integrated within the framework of the Nature 2030 IUCN Programme, delivering concrete and tangible positive impacts to People, Land, Water, Oceans and Climate, while ensuring alignment with the U.N. 2030 Agenda for Sustainable Development, as well as the post-2020 Global Biodiversity Framework.
Some examples of IUCN's work in the Caribbean in recent years include:
Transforming degraded forest landscapes in Saint Kitts and Nevis into biodiversity and climate-friendly areas of sustainable agroforestry production and strengthening institutional capacity for improved environmental planning and management through various complementary measures, including the development of biodiversity management strategies for Key Biodiversity Areas.

Development of capacities for protected areas management, including through 27 site assessments to analyse protected areas management and governance, and the deployment of almost 3 Mio USD in grants to support institutions and local NGOs to implement on-the-ground actions in protected areas, through the global "Biodiversity and Protected Areas Management (BIOPAMA) Programme".

The establishment of and support to the Caribbean Protected Areas Gateway (CPAG), a regional data and resource hub with a mission to reinforce the management and governance of protected and conserved areas through better use and monitoring of data and information.

Design and implementation of solutions to address plastic pollution in Antigua and Barbuda, Grenada, and Saint Lucia, engaging with businesses and civil society to address plastic leakage through a circular economy approach and supporting OECS Member States to actively participate in international and regional dialogue spaces on relevant normative frameworks, such as the current global negotiations for a UN Treaty on Plastics Pollution.
In the coming years, IUCN intends to strengthen its presence in the Caribbean, providing new opportunities for collaboration with the OECS and its Member States. This includes an upcoming initiative to tackle plastic pollution and plastic waste leakage, supported by the Italian Government, will build on the work already initiated in Antigua and Barbuda, Grenada and Saint Lucia, expanding its scope to St Kitts and Nevis, and St Vincent and the Grenadines.
---
About IUCN
IUCN is a membership Union uniquely composed of both government and civil society organisations. It provides public, private and non-governmental organisations with the knowledge and tools that enable human progress, economic development and nature conservation to take place together.
Created in 1948, IUCN is now the world's largest and most diverse environmental network, harnessing the knowledge, resources and reach of more than 1,400 Member organisations and around 15,000 experts. It is a leading provider of conservation data, assessments and analysis. Its broad membership enables IUCN to fill the role of incubator and trusted repository of best practices, tools and international standards.
IUCN provides a neutral space in which diverse stakeholders including governments, NGOs, scientists, businesses, local communities, indigenous peoples organisations and others can work together to forge and implement solutions to environmental challenges and achieve sustainable development.
Working with many partners and supporters, IUCN implements a large and diverse portfolio of conservation projects worldwide. Combining the latest science with the traditional knowledge of local communities, these projects work to reverse habitat loss, restore ecosystems and improve people's well-being.
Danny Moonie Communications / Knowledge Management Specialist, Organisation of Eastern Caribbean States
OECS Communications Unit Organisation of Eastern Caribbean States