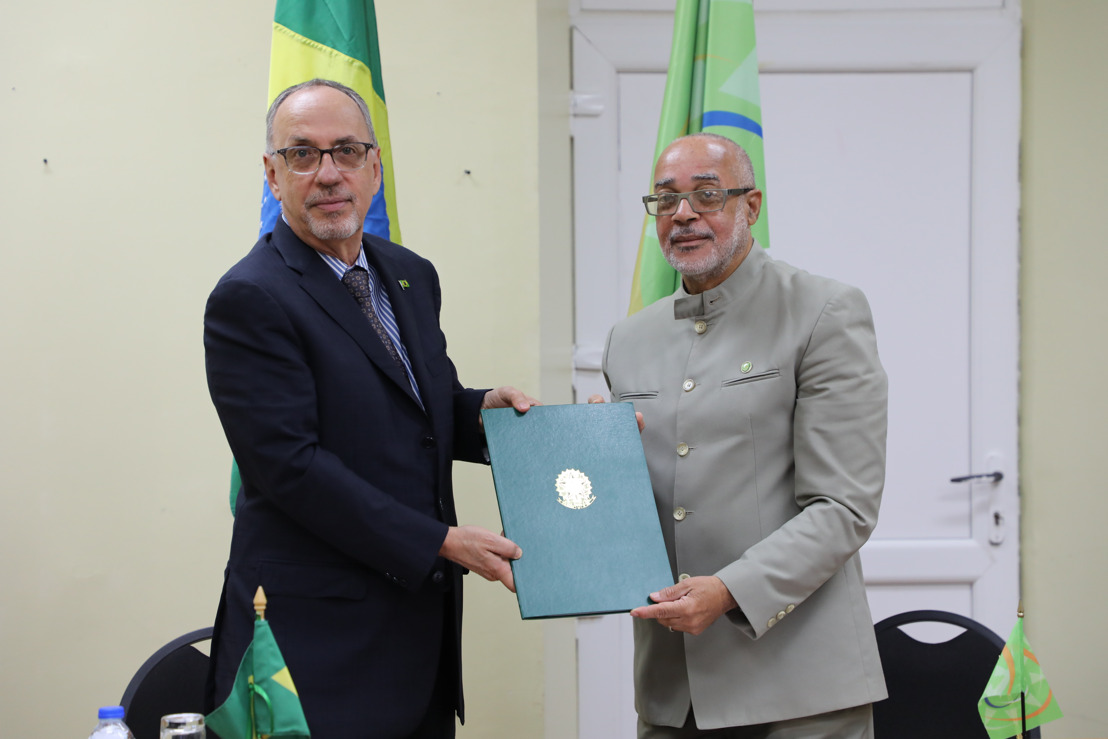 The Ambassador of Brazil to the OECS presents Credentials to the Director General
OECS Media Release
Friday, February 3, 2023 — The Ambassador of the Federative Republic of Brazil to the Organisation of Eastern Caribbean States (OECS), H.E. Anuar Nahes presented his credentials to Dr. Didacus Jules, Director General of the OECS on February 1, 2023.
In a courtesy meeting held following the Accreditation Ceremony, the Director-General welcomed and congratulated the Ambassador on his assumption of office. He expressed satisfaction with the exceptionally good relations and strong friendship which exist between Brazil and the OECS – a relationship which he stated spans decade and has been improving significantly. The Director General made reference to the Technical Cooperation Agreements signed between Brazil and the OECS and the assistance received from Brazil in that regard. In expressing gratitude, the Director-General stated that
"Brazil has been a willing, reliable and generous partner and has continued to provide assistance beyond the scope of its commitments under these Agreements."
The Director General highlighted the current impact of high inflation on small economies brought by the after effects of Covid, and the ongoing Russia-Ukraine war. This he noted poses major challenges to the economies of the small island states of the OECS which are constantly grappling with the resulting instability and unpredictability. He emphasized the need for the OECS to form strategic alliances with partners such as Brazil in order to generate sustainable solutions.
Ambassador Nahes indicated Brazil's plans to introduce to the OECS, a new proposal for general technical cooperation agreement. This proposal, he informed is a necessary institutional framework for permanent cooperation programs between Brazil and the OECS. In that regard, the Ambassador suggested that
"The Commission should formulate a comprehensive program of cooperation aimed at the social and economic development of the OECS region."
The Director General and the Ambassador discussed a broad range of issues concerning opportunities for exploring broader cooperation, as well as the ability of both sides to utilize existing opportunities to their full potential.
The Director General assured the Ambassador of the full assistance and support of the OECS Commission in undertaking his duties successfully during his tenure.
Formal diplomatic relations between the OECS and the Federative Republic of Brazil were established in 2009.
Bernadette Auguste Senior International Relations Officer, Organisation of Eastern Caribbean States
OECS Communications Unit Organisation of Eastern Caribbean States