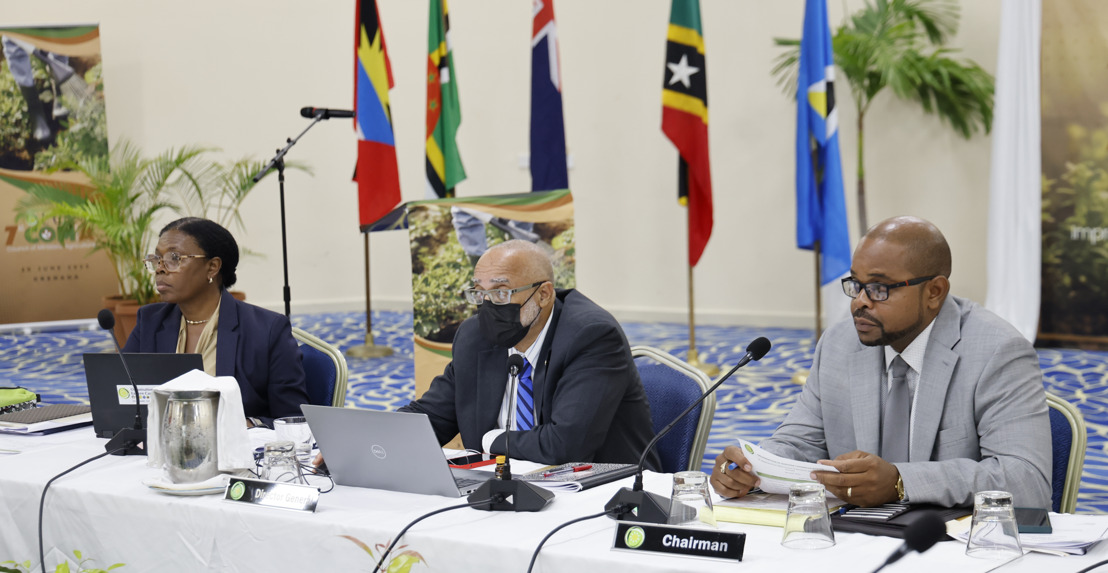 Seventh Meeting of the OECS Council of Ministers: Agriculture Focused on Food and Nutrition Security in the Region
Monday, July 10, 2023 — The Seventh Meeting of the OECS Council of Ministers: Agriculture was held at the Radisson Grenada Beach Resort, on Friday, June 30, 2023, under the Chairmanship of Hon. Roland Royer, Minister for Blue and Green Economy, Agriculture and Food Security, Commonwealth of Dominica.
At the opening ceremony, Director General of the Organisation of Eastern Caribbean States (OECS), Dr. Didacus Jules, reemphasised the challenges faced in the food supply chains in the Eastern Caribbean. Dr. Jules reminded delegates that the OECS states import a large share of the food that we utilise, with some countries importing more than 80 per cent of food in total food consumption .
Dr. Jules said that the OECS Food and Agriculture Systems Transformation (FAST) Strategy was developed in response to the wider Caricom 25 by 25 initiative, taking into account the particular or nuanced circumstances of our subregion. The FAST strategy is a ten-year programme, which was introduced at the Sixth Meeting of the Council of Ministers: Agriculture in October 2022. It sets out a regional approach to food and nutrition security, to transform the OECS agricultural sector into one that is food self-reliant.
"We have had very fruitful discussions across all aspects of the strategy but also important cross-cutting issues like data, youth and innovation in the agricultural sector. There were active deliberations and I believe we have arrived at a set of priority actions for regional level action which deliver greater value through us acting as a group rather than alone. We aimed to draw out those things which provided added value through regional action.
"There is a fierce urgency of now surrounding this challenge and it is not accidental that our strategy has the acronym 'FAST'. Food is the most elemental of human necessities. And in times of uncertainty and catastrophe, it is the most fundamental provision that must be guaranteed."
Minister Royer reminded delegates that building resilience is not only about building robust infrastructure and implementing smart farming systems, but also the speed of recovery from climatic events.
"We encourage our respective OECS governments to recognise the need for both coordination and technical cooperation on agriculture to improve the overall capacity of the sector to deliver a safe and secure supply of food to our populations. We believe that through shared knowledge, best practices, research and development, innovation and the facilitation of agricultural trade, finance and investment, we can achieve much as a grouping. We must prioritise technical and business activities that strengthen our capacity to increase the productivity and regional trade of agricultural products and the demand for healthy food to reverse the increasing trend of the incidence of non-communicable diseases," Minister Royer emphasised in his remarks.
The Seventh OECS Council of Ministers: Agriculture was convened for review, comments and approval of the report of a FAST prioritisation workshop which was held on 29th June, 2023 by senior officials from agricultural ministries of each protocol member state.They were supported by the OECS Commission, the Inter-American Institute for Cooperation on Agriculture (IICA) and the Food and Agricultural Organisation (FAO). Officials recommended that the OECS Commission focus on three key workstreams from the FAST Strategy over the next three years, namely:
a. Private sector development: production, processing and distribution through import substitution, mechanisation and shared core functions across the region
b. Transport, logistics and trade through establishing regional associations, upgrades to shipping services and infrastructure and leveraging international trade policy for food self-reliance
c. Climate resilient agriculture through climate smart agricultural standards, biodiversity protection, and a water programme which incorporates water supply studies, water use technology and training in water systems.
END
Follow the links below for more coverage following the Seventh Meeting of the OECS Council of Ministers: Agriculture.
Grenada and St Vincent Sign New MOU on Agriculture Cooperation
St. Kitts and Nevis Tours Grenanda Farms Amidst Commitment to Rebuild Sector Back Home
PLANTING THE SEEDS OF CO-OPERATION: Sub-region's agriculture ministers speak about farm level collaborations. Dominica's Minister Roland Royer speaks to white potato initiative.
OECS Communications Unit Organisation of Eastern Caribbean States
Claudia Mc Dowell Communications Specialist, Organisation of Eastern Caribbean States