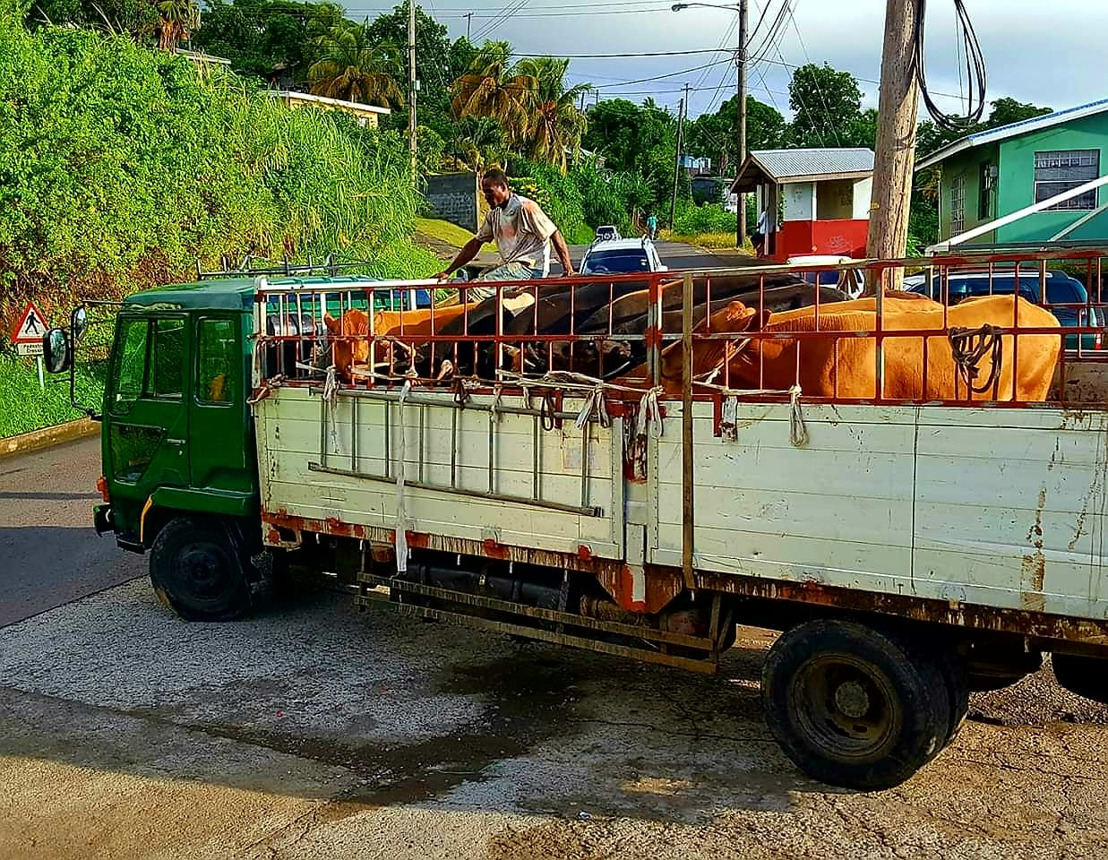 Saint Vincent and the Grenadines increases export of livestock in 2019
Saint Vincent and the Grenadines Ministry of Agriculture
Tuesday, March 5, 2019 — St. Vincent and the Grenadines this week is set to export another shipment of cattle to Grenada and an additional 500 pigs are demanded for export. SVG is known internationally for it's beautiful chain of islands, but is also taking the Caricom region by storm, as the island witnesses significant increases in fish and livestock exports.
The island's 50 year old banana industry has suffered from the removal of export preferences and the impact of climate change, reducing the once mainstay industry, to one for regional export and local consumption.
SVG is the largest exporter of livestock in the OECS currency Union.
Diversification of the agriculture sector has now taken deep roots. SVG is the largest exporter of livestock in the OECS currency Union. 83 heads of cattle were exported so far in the first quarter of 2019. With a demand for another 100 heads during the course of this week, the country will reach almost 50% of its export target for 2019, before the end of the first quarter of 2019.
Minister of Agriculture Hon. Saboto Caesar, noted that an increase in demand for livestock to be exported creates an excellent opportunity for farmers in SVG.
The Ministry is expected to continue to conduct several strategic interventions mainly in artificial insemination to ensure that the country continues to meet the demand, while maintaining the necessary supply for local consumption and sustainable export.
The Minister expressed that the now 7 year old cattle export sector has a multi-million dollar potential, since other islands in the OECS will be explored in 2019.
He thanked the government and people of Grenada for their continued support and commented that this is a clear example of the OECS trade at work.
Jude Jack a Grenadian born businessman and owner of the popular "Cow Pen" entertainment spot, the Minister added, "Continues to make the sister islands proud". Mr. Jack currently is the only exporter of cattle from St. Vincent and the Grenadines.
The Ministry of Agriculture encourages persons to invest in the livestock sector, so that increased exports can be sustained.
The Ministry has made a call for private sector engagement in establishing a modern abattoir to meet international standards for export and to reduce the food imports of beef and beef products. 500 pigs are expected to be a part of the shipment to Grenada later this week.
In 2018 the island experienced an over 100% increase in fish exports over the 2017 figures. This increase has been attributed to the opening of the Argyle International Airport.
OECS Communication Unit Organisation of Eastern Caribbean States