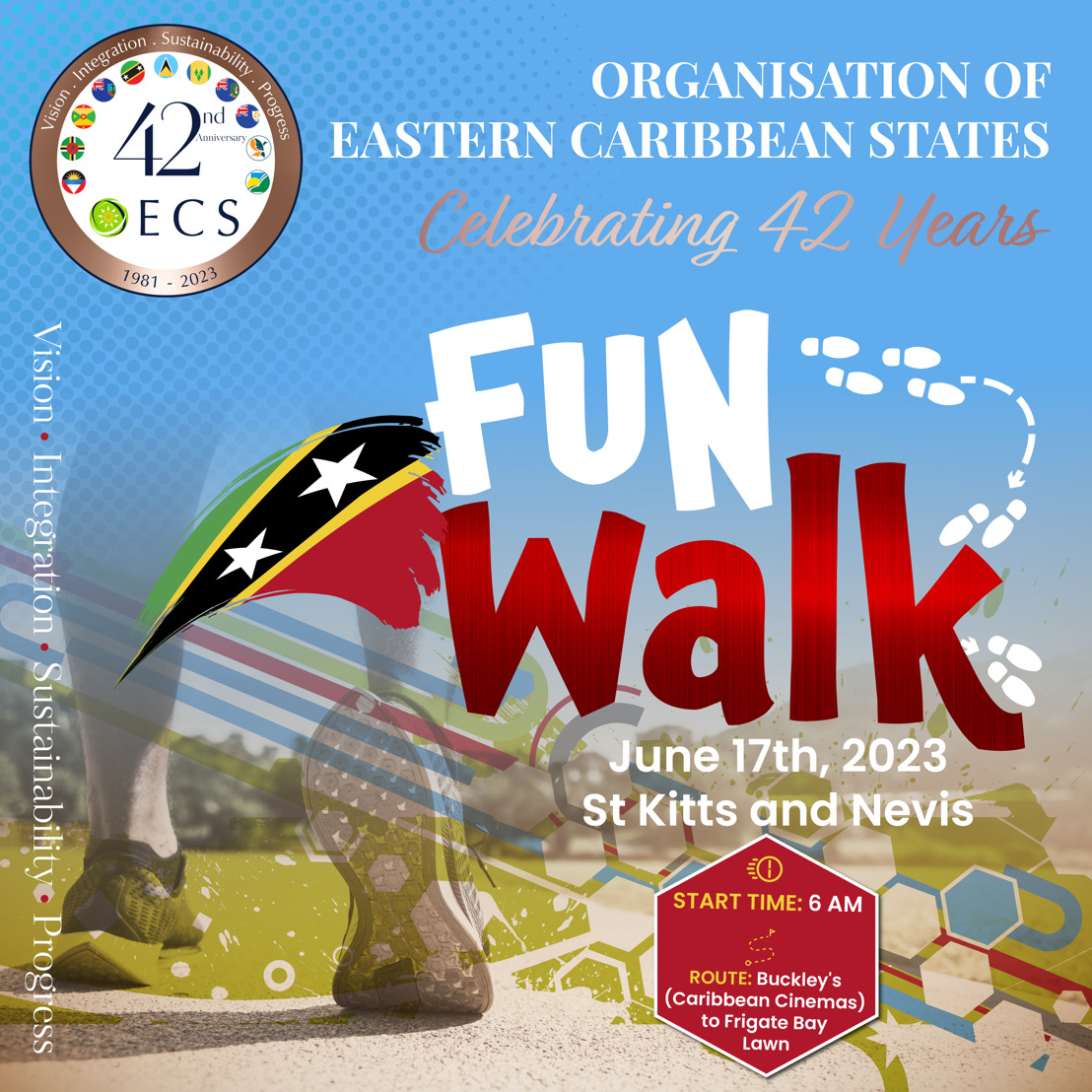 OECS to host Fun Walk in St Kitts and Nevis as part of 42nd Anniversary celebrations
OECS Media Release
Wednesday, May 31, 2023 — The Organisation of Eastern Caribbean States (OECS) Commission, in partnership with the Government of St Kitts and Nevis is pleased to announce its upcoming OECS Fun Walk scheduled for Saturday, June 17, 2023, in the beautiful twin-island Federation of Saint Kitts and Nevis. The walk forms part of the calendar of activities for the 42nd Anniversary of the OECS, being celebrated under the theme "Vision. Integration. Sustainability. Progress".
The OECS Fun Walk, a highly anticipated highlight of the Anniversary celebrations, will kick off at 6 am, starting from Buckley's, near the Caribbean Cinemas, and concluding at the Frigate Bay Lawn. Participants of all ages and fitness levels are invited to join this invigorating walk, which not only encourages physical activity but also fosters a sense of community and togetherness.
The Fun Walk aims to raise awareness about regional integration within the OECS, and promote healthy lifestyles.
Participants can look forward to a scenic route, breathtaking views of Saint Kitts and Nevis' natural beauty, and the opportunity to engage in meaningful conversations with fellow walkers. We invite everyone to register for the OECS Fun Walk and be part of this momentous celebration.
Register here to participate in the Walk. Follow us on social media platforms using the hashtags #OECS42 for the latest updates and exciting announcements.
Nyus Alfred Communications Officer, Organisation of Eastern Caribbean States
OECS Communications Unit Organisation of Eastern Caribbean States