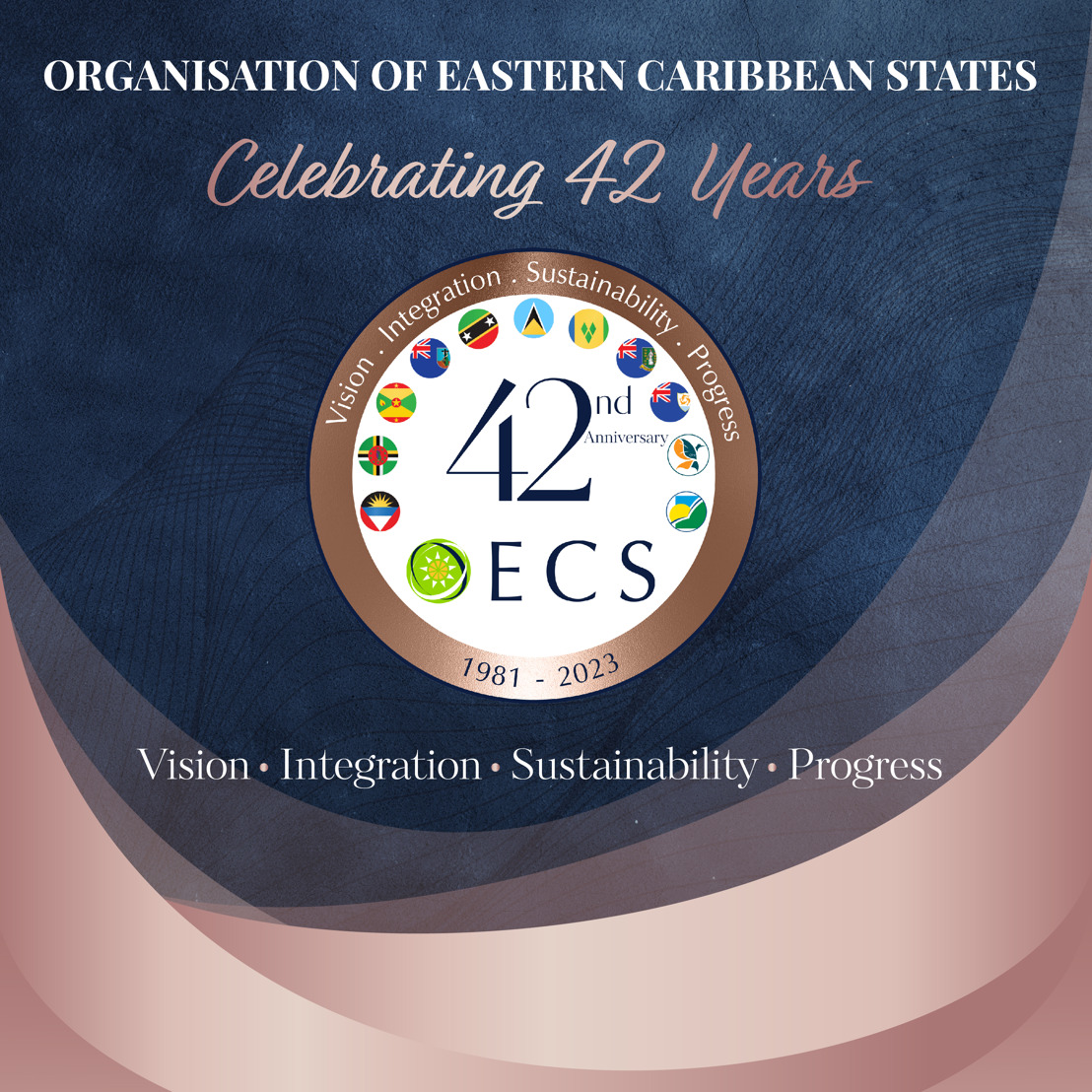 OECS to Celebrate its 42nd Anniversary
OECS Media Release
Friday, May 26, 2023 — The Organisation of Eastern Caribbean States (OECS) will observe its 42nd Anniversary on June 18, 2023, under the theme 'Vision.Integration.Sustainability.Progress.' In commemoration of this milestone, the OECS Commission will celebrate with a calendar of activities throughout the month of June.
The 42nd Anniversary Celebrations will highlight the achievements, progress and aspirations of the OECS, and will also recognize the commitment and dedication of its eleven (11) Member States, as well as its partners and stakeholders.
The calendar of activities is aimed at ensuring that every OECS Citizen has the opportunity to get involved. The highlight of the month of celebration is the hosting of the 73rd Meeting of the OECS Authority in Saint Kitts and Nevis from June 18-19, 2023. Other notable activities in the Twin-Island Federation include the OECS in the Classroom School Tour from June 13-16 and the OECS Fun Walk on June 17.
Citizens across all OECS Member States will get the opportunity to join in the celebrations on OECS Colours Day, slated for June 16, where they will show their pride and support for the OECS Integration Movement by donning the OECS Colours of green, yellow, white and navy blue. Young people across the region will also get in on the act, by participating in a knowledge based Poll about the OECS via the U-Report Platform on June 14.
The Anniversary celebrations will culminate with a Thanksgiving Service at the Good Shepherd Catholic Church in Castries, Saint Lucia on June 25.
The OECS Commission extends a warm invitation to the general public, organizations, and stakeholders, both within and beyond the OECS region, to join in the activities as we celebrate our shared values and aspirations.
For further information and updates on the 42nd Anniversary celebrations, please visit the official Anniversary website, www.oecs.int/en/oecs42 or email [email protected] . Follow us on social media for all the latest updates and join the conversation using the official hashtag #OECS42 or #OECSDay.
Nyus Alfred Communications Officer, Organisation of Eastern Caribbean States
OECS Communications Unit Organisation of Eastern Caribbean States