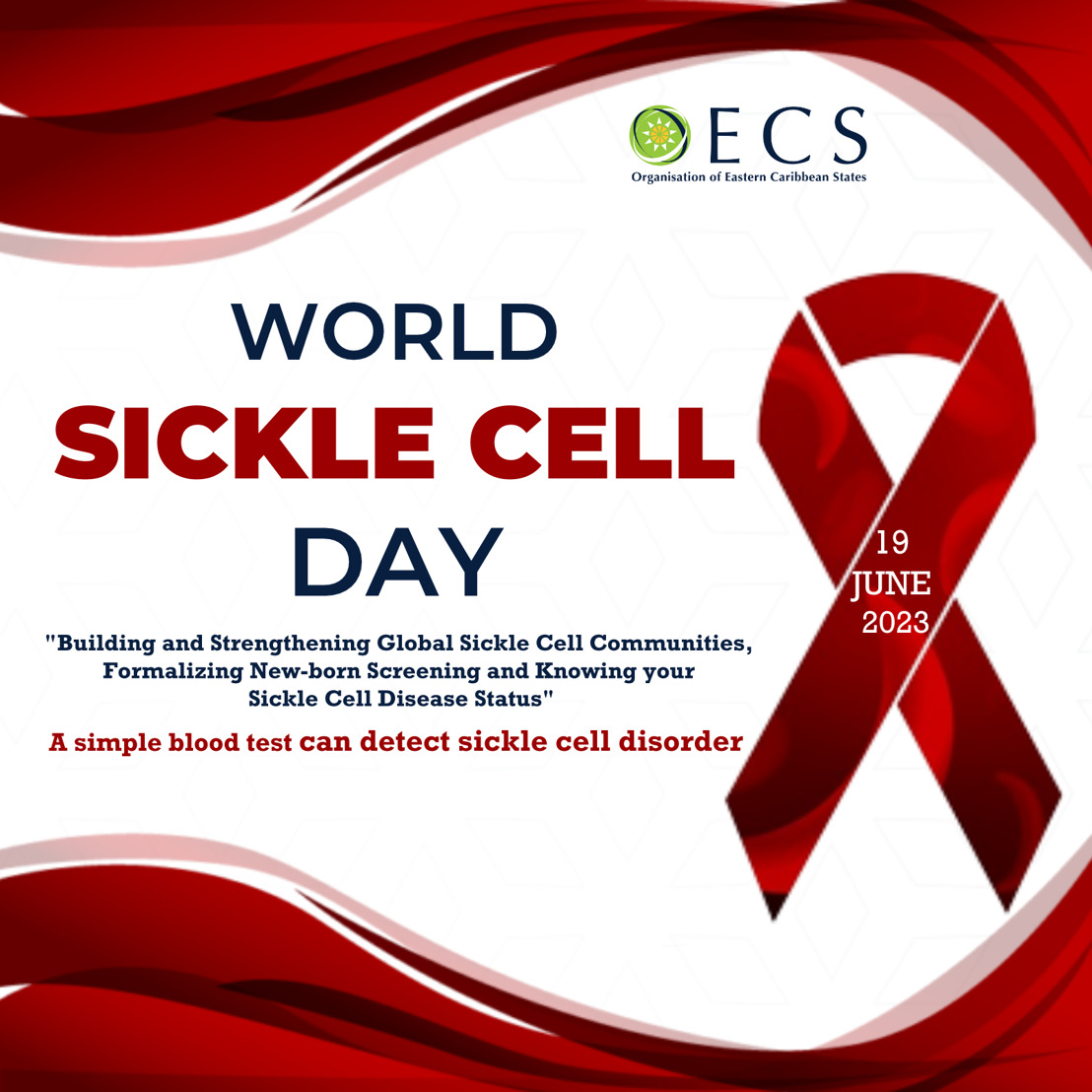 OECS Observes World Sickle Day
OECS Media Release
Monday, June 19, 2023 — Today on June 19th the Organisation of Eastern Caribbean States (OECS) Commission joins the global community in observing World Sickle Cell Day, under the theme "Building and Strengthening Global Sickle Cell Communities, Formalizing New-born Screening and Knowing your Sickle Cell Disease Status."
Sickle cell disease (SCD) is a group of inherited red blood cell disorders and is prevalent in the OECS, significantly affecting individuals and families both medically and socially. These challenges often require ongoing medical care and specialized treatment. This international awareness day highlights the challenges faced by individuals living with SCD and emphasizes the need for collective action to support affected persons as well as to promote research and education.
Dr. Didacus Jules, Director General of the OECS remarks:
"Let us join forces and take action as a group so that we may have a positive impact on the lives of those who are now afflicted with sickle cell disease and help contribute to a more promising future for them. Let us use World Sickle Cell Day as a catalyst for change and a reminder of our collective obligation to help and elevate individuals who are suffering with sickle cell disease. Let's work together to create a society that is more accepting of people with sickle cell disease and provides them with greater assistance."
The OECS Commission in partnership with the Caribbean Association of Researchers in Sickle Cell and Thalassemia (CAREST) through the Interreg Cares Project supported:
The strenthening of neonatal screening for sickle cell disease in Grenada and Antigua and Barbuda; and
Training of Medical Experts to facilitate the use of the tests, the performance of transcranial Doppler ultrasound and the detection of the risk of cardiovascular accidents of children with sickle cell disease.
The INTERREG CARES project aims to facilitate stronger collaboration in the health sector between the English Speaking and the French Associate Members of the OECS. President of CAREST Network Marie-Dominique Hardy-Dessources notes that:
"Sickle cell disease is the most common genetic disease in the world and in the Caribbean in particular. Thanks to this project, the screening of newborns can be pursued by rapid tests made available in health facilities in Grenada and Antigua and Barbuda. Indeed, early detection of sickle cell disease combined with appropriate medical care can improve the quality of life and the life expectancy of the patients. "
Malika Thompson-Cenac Communications Specialist, Organisation of Eastern Caribbean States
OECS Communications Unit Organisation of Eastern Caribbean States