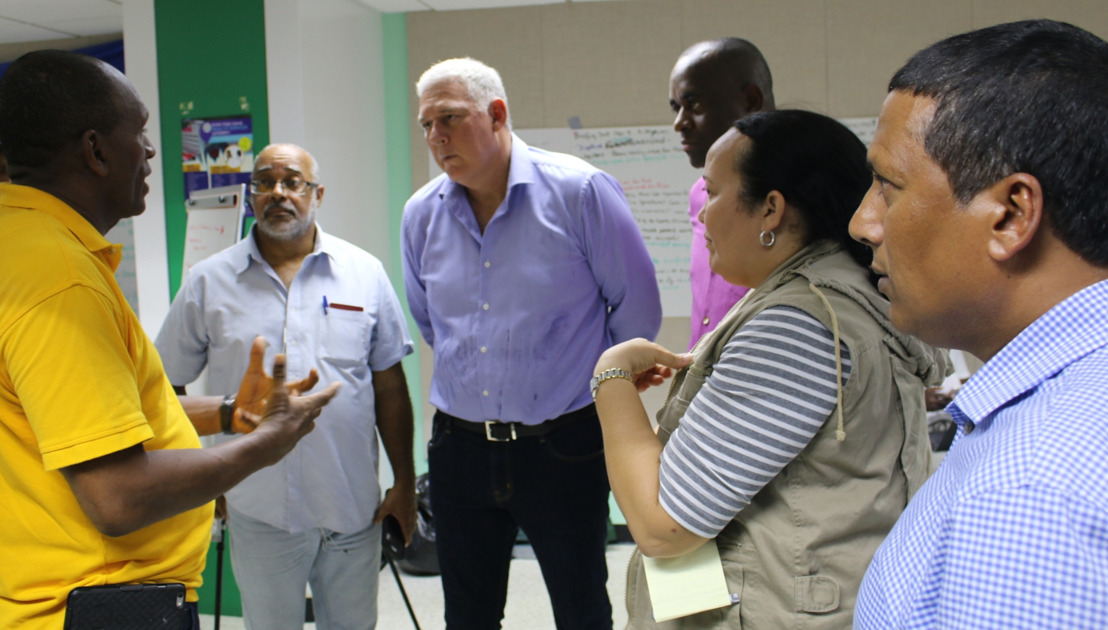 OECS Member States Rally Together in the Wake of Hurricane Irma
High-level OECS delegation visits islands most affected by the Category 5 storm
Monday, September 11, 2017 — As airports in the path of Hurricane Irma tentatively reopen, a high-level OECS delegation made preliminary visits to the OECS Member States most affected by the powerful Category 5 storm to assess first-hand the damage and immediate needs of the hurricane-ravaged islands.
Leading the delegation were OECS Chairman and Prime Minister of Saint Lucia, Hon. Allen Chastanet; Prime Minister of the Commonwealth of Dominica, Hon. Roosevelt Skerrit; Minister of Economic Affairs in Saint Lucia, Hon. Guy Joseph; OECS Director General, Dr. Didacus Jules, and Director of the Saint Lucia National Emergency Management Organisation (NEMO), Ms. Velda Joseph.
Highlights:
Strengthening Intra-regional cooperation occuring

​Regional and international support and vital emergency supplies mobilised

OECS Heads of Government stand in firm solidarity with islands impacted
Strengthening Intra-regional Cooperation
Prime Minister Chastanet, in his role as OECS Chairman, said the visit to the affected Member States was necessary to discern immediate needs and to show physical support as the region works toward strengthening intra-regional cooperation:
"The threat of two hurricanes, and Puerto Rico and Miami in disaster's way, meant that the support had to come from the south. This is what has really encouraged us to form this OECS group to support CDEMA," Prime Minister Chastanet said.
Initial impressions on the ground left the OECS Chairman hopeful, however, as some solid infrastructure withstood the storm, roads were cleared and some basic amenities were still functioning.
"As bad as you may think this is, this is all fixable," Prime Minister Chastanet reassured residents in Tortola.

"It is going to take a little time but what is most important right now is to make sure things are taken care of, from a medical perspective and also water and food."
At a Press Briefing in the British Virgin Islands, Prime Minister Chastanet informed the gathering that two cargo boats are currently harboured in Saint Lucia and will be filled with water and supplies for the BVIs. He also spoke of plans for a dedicated cargo plane that would bring fresh produce to the affected islands on a regular basis.
"I want all the citizens of the Dutch Virgin Islands and particularly the nationals of the Caribbean to know that our hearts and thoughts are with them, but more importantly our resources."

"We are here in person to really reassure everyone that they are not forgotten. We clearly understand what you are going through and we will be here," added Prime Minister Chastanet.
Prime Minister of the Commonwealth of Dominica, Hon. Roosevelt Skerrit pledged his support to the initiative and commended the OECS on the extraordinary mobilisation of assistance achieved thus far.
"This effort by the OECS is really unprecedented. Although we have gone through this many times, there is more coordination now and I think it places us in a much better position to be able to reach out," Prime Minister Skerrit said.
Regional and International Support
The multi-island visit began in Tortola, British Virgin Islands, where the team had a chance to meet with His Excellency the Governor, Mr. Augustus Jaspert, and briefly survey the extent of the destruction on the island.
Governor Jaspert was grateful for the support extended regionally by CARICOM and the OECS and noted that the UK Government has also provided a great deal of support in the form of military personnel to support the BVI police, support at the airport, and the provision of supplies.
"My message to people is: Stay calm, we are getting systems going, a lot of relief and support (humanitarian as well as military and security assistance) has [arrived] and is arriving. We are getting distribution set up and hopefully we will be able to get government back functioning as quickly as we can," Governor Jaspert said.
The high-level group continued assessment visits to Anguilla, Saint Kitts and Antigua where the delegation met with His Excellency the Governor of Anguilla, Mr. Tim Foy and the Chief Minister in Anguilla, Hon. Victor Banks; Prime Minister of Saint Kitts and Nevis, Dr. The Hon. Timothy Harris and Prime Minister of Antigua and Barbuda, Hon. Gaston Browne, respectively.
Looking Forward
OECS Director General, Dr. Didacus Jules, was inspired by the proactive nature with which OECS Heads of Governmet and key regional disaster management personnel mobilised to alleviate the plight of the sub region's northern brothers and sisters. He admitted, however, that there is still a great deal of work to be done.
"There is a need for us to step back from this experience and take a look at the speed with which we are able to respond in the event of a disaster."

"We saw what happened with four countries being hit at the same time, and right in the footsteps of the first hurricane was Hurricane Jose."

"It is clear that we can expect more of this in the future. The challenge here is, how do we use the priorities of climate change to build resilience and adaptation in ways that protect us better? We have to look at creative ways of accessing and utilising the resources that are available."

"We have some serious work ahead of us and the Commission is completely committed to working with all Member States to ensure that we are able to better prepare ourselves for the future." Dr. Jules said.
Assessments on the areas most in need of attention are currently being discussed by OECS Heads of Authority for expeditious action.
The OECS Commission continues to support the Caribbean Emergency Management Agency (CDEMA) to deliver much needed aid to victims of the storm.
OECS Communications Unit Organisation of Eastern Caribbean States