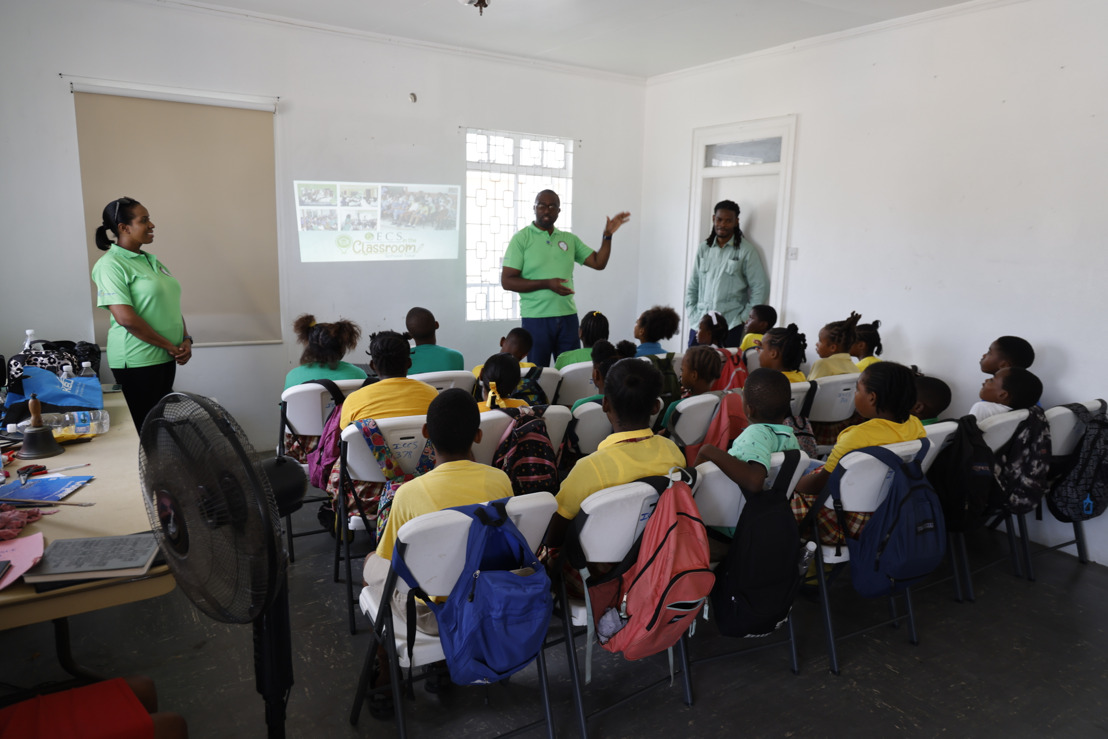 OECS in the Classroom for its 42nd Anniversary
OECS Media Release
Thursday, June 22, 2023 — The Organisation of Eastern Caribbean States (OECS) launched an "OECS in the Classroom School Tour" in schools across St Kitts and Nevis from June 13-16, 2023. The event formed part of the celebrations for the 42nd Anniversary of the OECS, being celebrated under the theme 'Vision. Integration. Sustainability, Progress'.
The objectives of the School Tour were to:
Increase awareness of the OECS within the school age and youth segments of the OECS population.

Increase knowledge of students and youth regarding their rights and privileges as citizens within the OECS economic union.

Increase engagement of schools and local communities to support the OECS integration movement.
The School Tour featured a range of activities, including engaging presentations, interactive quizzes, and opportunities for students to learn more about the OECS and its work. Throughout the informative sessions, the team actively highlighted tangible benefits of regional integration, and the role of the OECS in creating opportunities for all its members.
The School Tour was led by OECS Commissioner for St. Kitts and Nevis H.E. Larry Vaughan and OECS Head of Communications Ms. Loverly Anthony. OECS Director General Dr. Didacus Jules and Prime Minister of St Kitts and Nevis, Chairman of the OECS Authority Hon. Dr. Terrence Drew also made special appearances. The tour visited twelve (12) Primary Schools across both St Kitts and Nevis. The schools included Bronte Welsh Primary School, Sandy Point Primary School, Saint Paul Primary School, VOJN Primary School, St. Thomas Primary, Elizabeth Jeffers Primary School, Saddlers Primary School, Joshua Obadiah Williams Primary School, Cayon Primary School, Tucker-Clarke Primary School, Irishtown Primary School and Deane-Glasford Primary School.
OECS Commissioner for SKN and Nevis H.E. Larry Vaughan was pleased with the outcome of the school visits. According to him,
'OECS In The Classroom highlighted the significance of interacting with students in Saint Kitts and Nevis and across the region. Our integration efforts will always redound to the benefit of our people and our efforts begin and end with educating our youth.'
OECS Head of Communications Loverly Anthony shared her thoughts regarding the importance of this initiative.
"These children are the inheritors of the integration machinery that we are building today, it is imperative that they understand the benefits that the OECS faciltates for the sustaibulity and empowerment of their future. It is also important to note that the knowledge acquired by the students doesn't remain in the classroom, it is transferred to their families and friends in their various homes and communities."
The OECS remains commited to fostering partnerships with schools and educational institutions, and supporting the engagement of youth. The OECS will continue similar School engagement events across the other member states, as it recognizes the invaluable role of young people in shaping the future of the OECS.
Nyus Alfred Communications Officer, Organisation of Eastern Caribbean States
OECS Communications Unit Organisation of Eastern Caribbean States