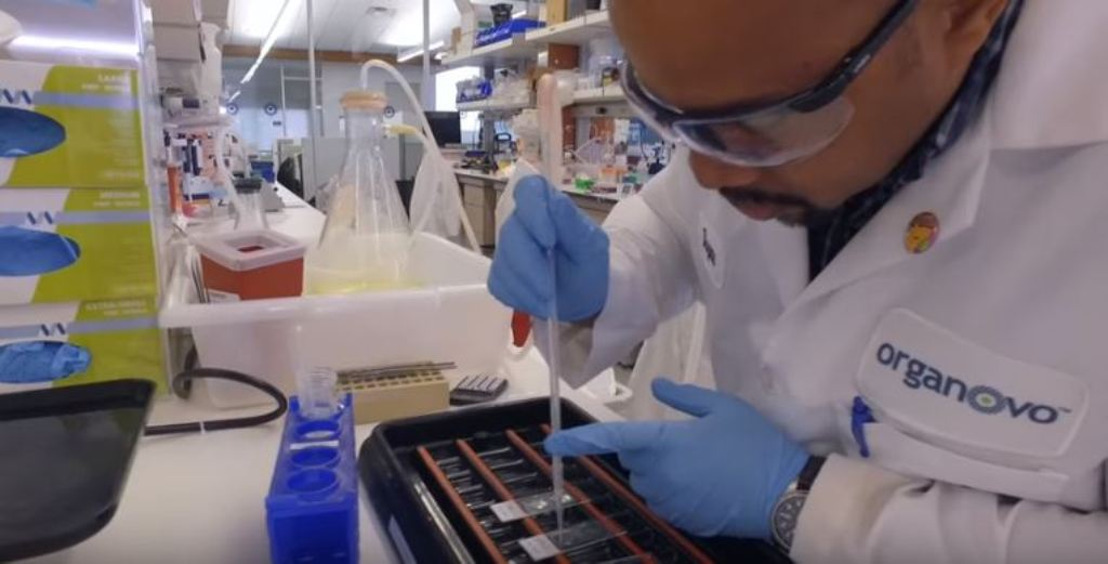 OECS Highlights Outstanding Grenadian making strides in biotechnology
Dr. Dwayne E. Carter is helping rewrite the rules of medical research
Wednesday, August 16, 2017 — A national of Grenada, Dr. Dwayne E. Carter received his formation in the sciences at the Grenada Boys Secondary School and the T. A. Marryshow Community College in his hometown of Saint George's.
Dwayne would later migrate to the United States to further pursue his passion for medicine and his curiosity to better understand and cure diseases that plague the human race. After years of study, Dwayne completed his doctoral training in cell biology at the University of Texas Medical Branch where he primarily focused on acute alcohol induced liver injury.
In 2016, he joined ORGANOVO Holdings Inc. as a post-doctoral researcher in liver tissue bioengineering with a focus on modeling progressive liver diseases. Throughout his graduate training, Dwayne received numerous awards for meritorious research from national scientific meetings and has two publications in peer reviewed journals.
When asked about the advice that he would give to young persons in the sub region that may be interested in an investigative science career, Dwayne said:
"This is a long road but the journey is worth it. A tip is to always make goals for yourself and plan strategic ways to achieve those goals."

"Also be prepared to fight for what you want! Very few things a​re handed to you in this world, so brace yourself for times of adversity – because you will inevitably be faced with challenges - and the way you deal with them determines your success or failure."

"At this stage in my life I consider myself a fighter, I look forward to the challenges because I've learnt that they bring forward my best," he said.
Dr. Carter will be delivering a presentation on "Modeling Human Biology, Drug Response and Progressive Liver Disease Using 3D Bioprinted Human Liver Tissue" at the Committee Lecture Hall at TSRI, La Jolla, California at 7:00pm today, August 16, 2017.
This release will be updated with a video recording of Dr. Carter's presentation as soon as it becomes available.
ABOUT THE PRESENTATION:
Nonalcoholic fatty liver disease (NAFLD) is a chronic condition that originates as lipid accumulation within hepatocytes (steatosis) and progresses into nonalcoholic steatohepatitis (NASH), characterised by lipid accumulation, inflammation, oxidative stress, and fibrosis. NAFLD is now recognised as the most common cause of chronic liver disease, with a prevalence of 25% worldwide, and is projected to become the leading indication for liver transplant by 2025.
Despite decades of research in rodents and 2D cell cultures, the mechanisms of NAFLD progression, therapeutic approaches and non-invasive diagnostics are still resoundingly absent. Thus, there is a significant need for a more predictive human multicellular 3D in vitro model to study the progression of steatosis into NASH.
Using immune competent ExVive™ Human Liver Tissue, an in vitro 3D bioprinted liver, Dr. Carter will show preliminary data where the key features of NASH such as steatosis, fibrosis and inflammation will be modeled via nutrient overload followed by inflammatory stimulation using prototypical inducers.
ABOUT THE OECS FEATURE SERIES:
The OECS Feature Series is an initiative that seeks to feature the accomplishments of consummate professionals from OECS Member States making strides within the region and in the Diaspora.
The project highlights one outstanding OECS national per month and aims to inspire the region's youth to 'think big' and open their minds to extraordinary possibilities through the success stories of their OECS peers.
Criteria for nominations include: being a national of an OECS Member State; possessing an academic distinction of the highest order; scientific invention; high political accomplishment (regionally and in the Diaspora); and extraordinary community or national service achieved (regionally and in the Diaspora).

OECS Communications Unit Organisation of Eastern Caribbean States