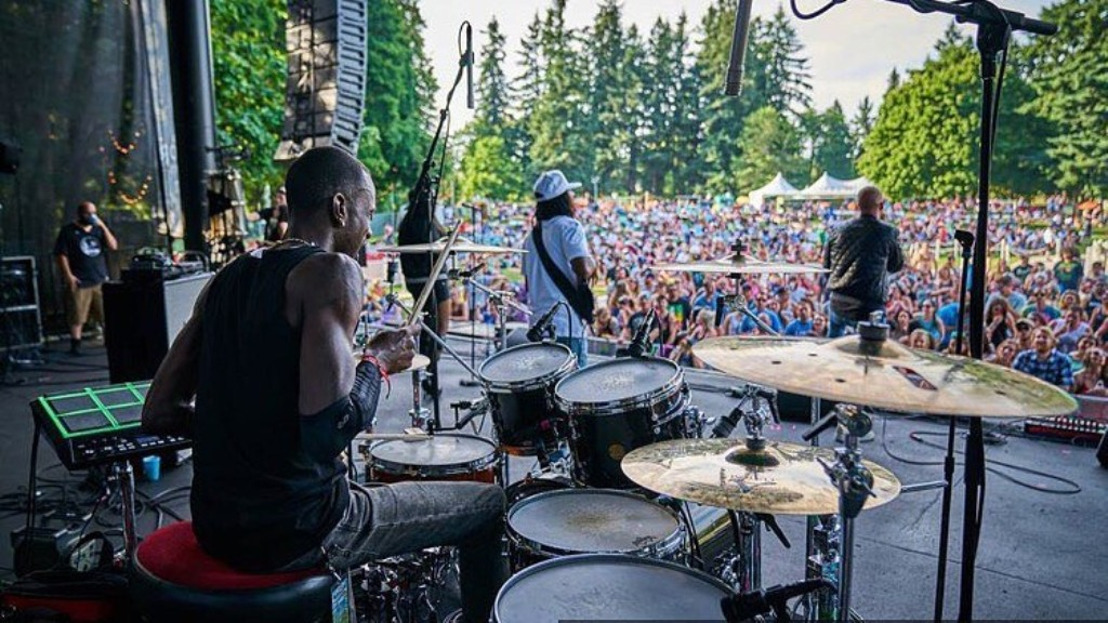 OECS Features St. Lucian Musician
Marvelon 'Stixx' Mitchell is making history on the international music scene
Wednesday, October 18, 2017 — Born on the small island of Saint Lucia in the Caribbean, Marvelon 'Stixx' Mitchell was blessed with a gift that would take him across the globe, touching every continent in the world by the age of 25.
His love for the art coupled with hard work and perseverance has garnered him several history making achievements such as "the first St. Lucian drummer to ever play on international records" and "first drummer from the entire Eastern Caribbean to be affiliated with the Marleys."
Reflecting on his childhood in Saint Lucia, Marvelon credits his initial appreciation for rhythms and music from the sounds of Carnival that would creep into his home in the heart of the downtown, Castries.
"Every piece of entertainment passed in front of where we lived on Jeremy Street."

"On J'ouvert morning there was music on the road, bands from Guadeloupe and Martinique with percussionists drumming."

"Every time the bands would pass I was amazed by the musicians and I always wanted to do that," Marvelon reminisced.
Supported by his parents, Marvelon would soon have his first drum kit and would begin to craft his passion through countless hours of dedicated practice. Throughout his academic life, and even as a young marketing professional, Marvelon made time for music – playing gigs at the hotels at night.
"A lot of guys started before me, and I was not the most technical drummer at the time, but over the years I've unlocked my gift," Marvelon said.
Marvelon would dedicate himself to music full time, leaving his island home to play on the cruise ships earned him the international experience that he needed to take his career to the next level.
He fondly remembers his first tour as the drummer for JoMersa Marley, grandson of the late reggae legend Bob Marley and the eldest son of Stephen Marley, as his breakthrough moment as a professional musician.
"To be chosen by Stephen Marley to be one of their musicians is one of the most amazing things to happen."

"That family is recognised as one of the greatest families in reggae music because their father, Bob Marley, is a living legend."

"This made me the first drummer out of Saint Lucia and the entire Eastern Caribbean to be affiliated with the Marleys and with that came a lot of attention," Marvelon noted.
Marvelon's successes have only continued to grow, having toured with Grammy Award Winning Artist Jemere Morgan, son of Gramps Morgan from Grammy Award Winning "Morgan Heritage; and the Legendary "Junior Marvin" Lead Guitarist for "Bob Marley & The Wailers." He is currently on tour as the official drummer for international musical artiste Collie Buddz.
When asked what advice he would give to youths in the Caribbean that may be interested in following his career path, Marvelon outlined two virtues instilled by his parents at a young age: discipline and humility.
"You have to learn to be humble because humility carries you very far in life."

"It doesn't matter how talented you are, if you are not humble or you are not approachable, then your talent or your gift is of absolutely no use to you."
Marvelon is an OECS Youth Ambassador and an Ambassador for Telecommunications Company Digicel, alongside other Caribbean Icons like Machel Montano from Trinidad & Usain Bolt from Jamaica. He is endorsed by Dauz Drum-Trigger Pads, SnareWeight, Evans Drumheads by D'Addario, Alclair Audio and has his Signature drumsticks from Leading Drumstick Company "Regal Tip by Calato."
Click below to view the full interview!
ABOUT THE OECS FEATURE SERIES:
The OECS Feature Series is an initiative that seeks to feature the accomplishments of consummate professionals from OECS Member States making strides within the region and in the Diaspora.
The project highlights one outstanding OECS national on a quarterly basis and aims to inspire the region's youth to 'think big' and open their minds to extraordinary possibilities through the success stories of their OECS peers.
Criteria for nominations include: being a national of an OECS Member State; possessing an academic distinction of the highest order; scientific invention; high political accomplishment (regionally and in the Diaspora); and extraordinary community or national service achieved (regionally and in the Diaspora).
Tahira Carter Senior Communications Specialist, Organisation of Eastern Caribbean States
OECS Communications Unit Organisation of Eastern Caribbean States