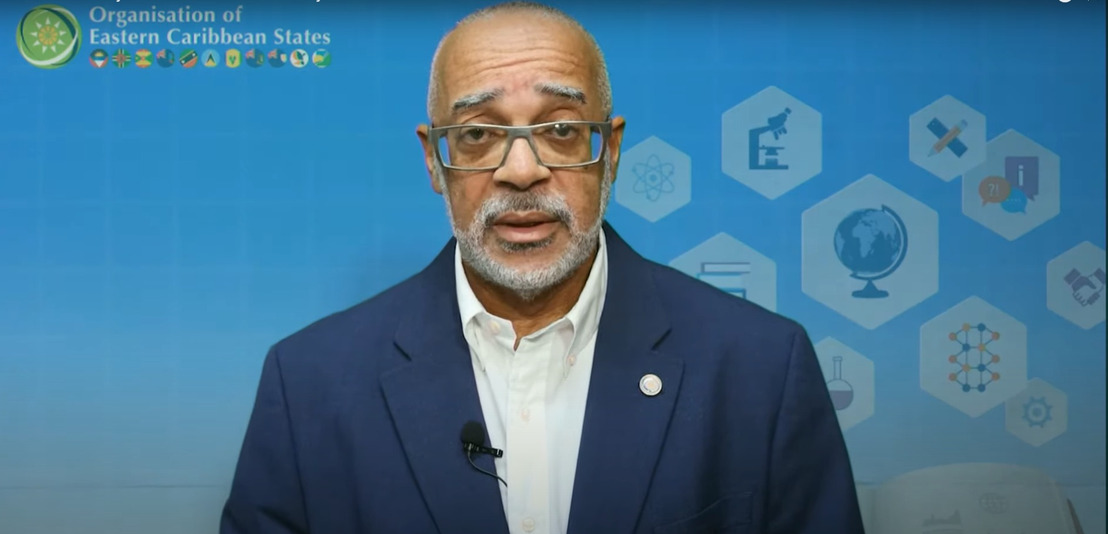 OECS Director General Urges Citizens to Avoid Financial Exploitation by Boosting Financial Literacy
OECS Media Release
Friday, October 27, 2023 — Through the World Bank funded Caribbean Digital Transformation Project (CARDTP), the OECS Commission, with the technical leadership of the Eastern Caribbean Central Bank (ECCB), recently launched the results of a Financial Literacy and Financial Inclusion (FLFI) survey on September 18, 2023.
CARDTP is focused on building five key foundations of the digital economy - infrastructure, platforms, skills, financial services, and entrepreneurship with an objective to increase access to digital services, technologies and skills by governments, businesses, and individuals.
Director General of the OECS, Dr. Didacus Jules, emphasized the importance of digital transformation and the purpose of the survey in his remarks.
He said, "Financial literacy isn't just about understanding money, it is about empowering ourselves to make informed decisions. It is the knowledge and skills to manage personal finances, understanding savings, investing, borrowing and much more. When a significant number of individuals lack these skills, our entire region can suffer from high debt levels, low savings, and missed economic opportunities."
Dr. Jules explained that high levels of financial illiteracy leaves room for lending agencies and "purported" non-financial entities to exploit citizens and influence extreme rates of personal debt.
"Here's the good news: The digital age offers unprecedented opportunities to promote financial literacy. With the proliferation of smartphones and internet access across our member states, we can leverage technology for financial education."
He encouraged all citizens to advocate for financial education and to demand this in schools and support community programs, and that everyone should continuously seek personal education.
The FLFI survey was conducted to evaluate general public's understanding of and their access to financial products and services in order for CARDTP to design digital transformation responses that address the key needs of citizens. The FLFI survey captured baseline information about financial behaviour, attitudes, and knowledge of individuals in the Eastern Caribbean Currency Union; financial awareness and access to financial services and products; and definined realistic targets that can be monitored to measure progress over time. Participating countries were Anguilla, Antigua and Barbuda, Commonwealth of Dominica, Grenada, Montserrat, St. Kitts and Nevis, Saint Lucia and Saint Vincent and the Grenadines and targeted household members aged 18 and above from various socio-economic backgrounds.
At the FLFI survey results launch, a summary report was made available on the ECCB's website. The ECCU's financial literacy score measured at 12.2 out of 20. The overall financial literacy score is obtained as the sum of financial knowledge (maximum score 7), financial behaviour (maximum score 9), and financial attitudes (maximum score 4).
In his remarks, Dr. Jules also added, "To build a resilient and prosperous ECCU, we must ensure that our citizens are equipped with the financial skills and knowledge they need. Financial literacy isn't just an individual responsibility; it's a collective imperative."
The OECS and ECCB will work with the ECCU to create a financial inclusion strategy to help transform citizen awareness and access to financial products and services, and to be able to measure progress towards financial literacy and inclusion.
For more coverage on the FLFI Survey Launch, click the links below:
ECCB Governor Calls for Collective Action to Scale Up Financial Literacy and Financial Inclusion in the ECCU
EBBC's Inaugural Financial Literacy and Financial Inclusion Survey Finds That Only Half of Respondents are Financially Resilient
Claudia Mc Dowell Communications Specialist, Organisation of Eastern Caribbean States
OECS Communications Unit Organisation of Eastern Caribbean States