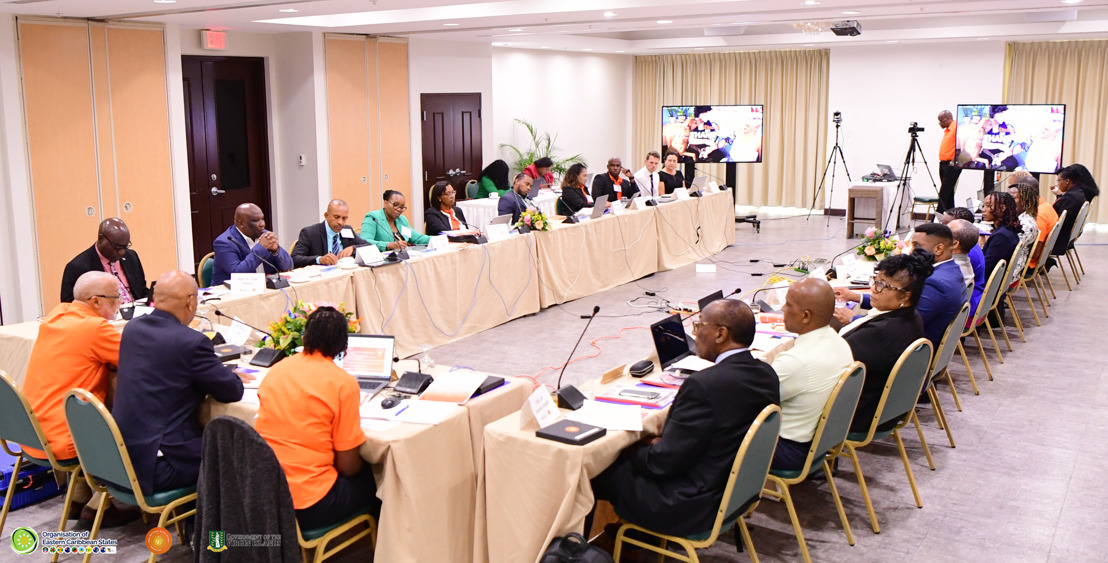 OECS Convenes its 36th PPS Policy Board Meeting in the British Virgin Islands
Friday, October 20, 2023 — The Organisation of Eastern Caribbean States (OECS) Commission convened the 36th Meeting of its Pooled Procurement Services (PPS) Policy Board on October 10, 2023, in the British Virgin Islands. The Meeting was held under the Chairmanship of Hon. Vincent Wheatley, Minister for Health and Social Development of the British Virgin Islands, with attendance from OECS Ministers and Permanent Secretaries of Health.
In his remarks during the Opening Ceremony held on October 9, 2023, OECS Director General Dr. Didacus Jules highlighted the importance and value of the PPS in saving costs on key medicines and medical supplies for OECS Member States throughout its history. Dr. Jules also stressed the value of, and lessons learnt from the pooled procurement purchasing of pharmaceuticals during the COVID-19 pandemic.
Dr. Jules encouraged the Policy Board Members to exercise their political will to support the Pooled Procurement Mechanism, identify "centers of excellence" within the Healthcare Services in each Member State, and work on mechanisms to make these services accessible and affordable for all patients, in line with the regional integration agenda.
Following the meeting, Chair of the 36th Policy Board Hon. Vincent Wheatley highlighted the importance of greater collaboration towards increasing the impact of the work of the PPS in the OECS. He stated,
"We had very robust discussions on various issues, but for us, the overarching message was the need for greater collaboration in terms of increasing purchasing power of pharmaceuticals and standardizing equipment throughout the region."
Hon. Wheatley continued,
"Not only do you get affordable prices, but you are able to share supplies, whether it is reagents or parts, when you have standardized equipment. So trying to get that done is a mammoth task, but it is something that we are committed to do."
Head of Pooled Procurement Services Ms. Roselyn Opel urged Member States to commit to the founding ideals of the Pooled Procurement of Health Commodities and embrace technology to increase efficiency in service delivery to the Member States through the Central Medical Stores and Pharmacies at Facility levels.
Nyus Alfred Communications Officer, Organisation of Eastern Caribbean States
OECS Communications Unit Organisation of Eastern Caribbean States