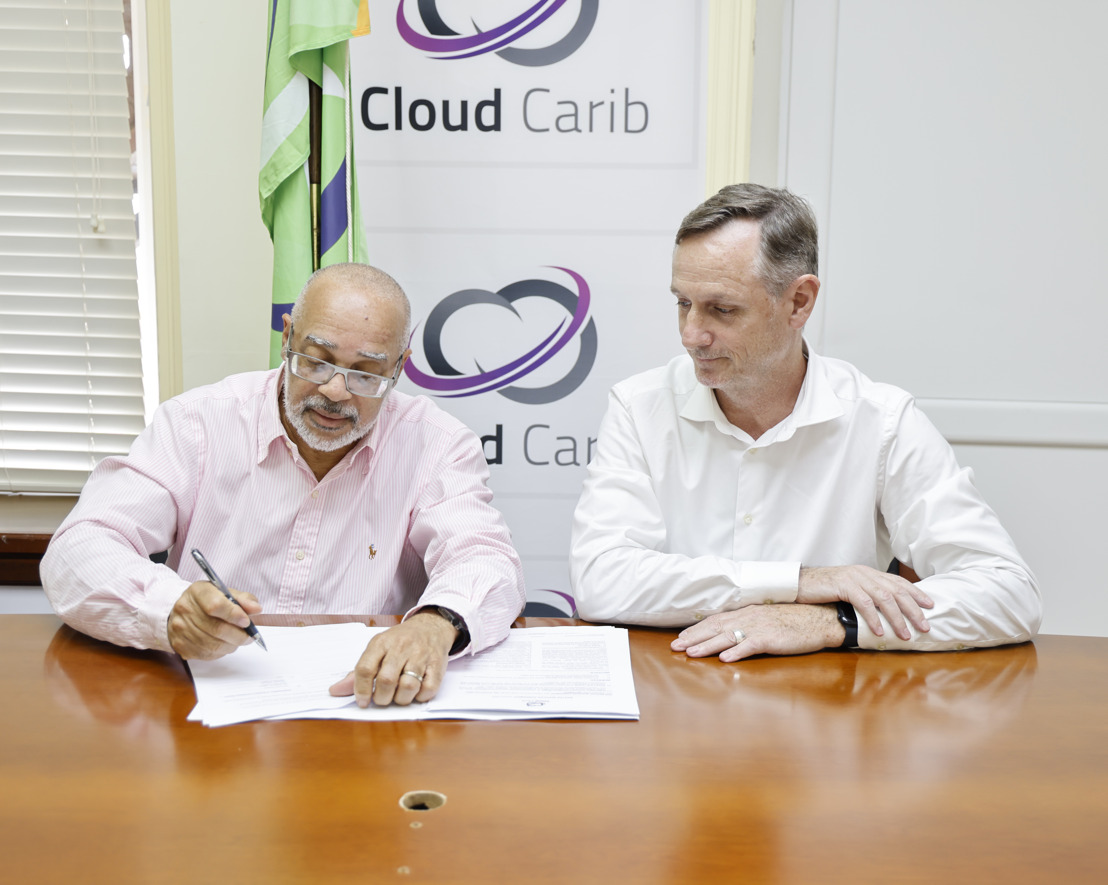 OECS Commission and Cloud Carib sign MoU to support Digital Transformation in the OECS
OECS and Cloud Carib Joint Media Release
Wednesday, May 31, 2023 — The Organisation of Eastern Caribbean States (OECS) Director General, Dr. Didacus Jules, and Cloud Carib Director, Public Sector, Mr. Eamonn Sheehy, met on April 25, 2023 to formally sign a Memorandum of Understanding (MoU) between the OECS Commission and Cloud Carib. The MoU is intended to support the realization of a single ICT space through the delivery of Sovereign Cloud, Data Residency, Data Sovereignty, Mission Critical Services, and Cybersecurity in support of Member States' Digital Transformation.
Speaking at the Signing ceremony, Dr. Jules expressed his desire for a whole-of-society approach to sustainable digital transformation across the OECS Member States, that will include a sustainable cost sharing model. He said,
"Given Cloud Carib's focus in the region and its commitment to the sovereign cloud, OECS States can, through this MoU, leverage Cloud Carib's expertise to accelerate digital transformation. Due to the implementation of GDPR-type legislation in the region and the global geopolitical situation, data sovereignty is a very important consideration for countries."
Mr. Sheehy reiterated Cloud Carib's commitment to implementing dedicated cloud infrastructure in jurisdictions where the company provides relevant services for government entities. He informed the Director General of Cloud Carib's participation in VMware's sovereign cloud initiative, the first Caribbean cloud services company to join this global initiative.
Mr. Sheehy further highlighted Cloud Carib's commitment to cybersecurity, which has significant implications for secure sustainable cloud services, particularly in the creation of a single cloud space for OECS States. Cloud Carib has recently received the Cloud Security Alliance's (CSA) Star Level Two status, the only cloud service company in the Caribbean to achieve such status.
The two parties also discussed the use of a single OECS integrated cloud space to leverage economies of scale for the procurement of both cloud infrastructure and applications. As part of the MoU, an agreement was made to host a Conference on the topic, where Cloud Carib would demonstrate how such an environment will lead to benefit for OECS Member States.
The OECS Commission and Cloud Carib are committed to working together to create a more secure, integrated, cost-effective, and sustainable digital transformation model in the region. Cloud Carib has already committed to hosting the Commission's e-learning platforms for free for three years, and this partnership has the potential to open up many opportunities for OECS Member States to implement innovative solutions and accelerate digital acceptance.
Nyus Alfred Communications Officer, Organisation of Eastern Caribbean States
OECS Communications Unit Organisation of Eastern Caribbean States