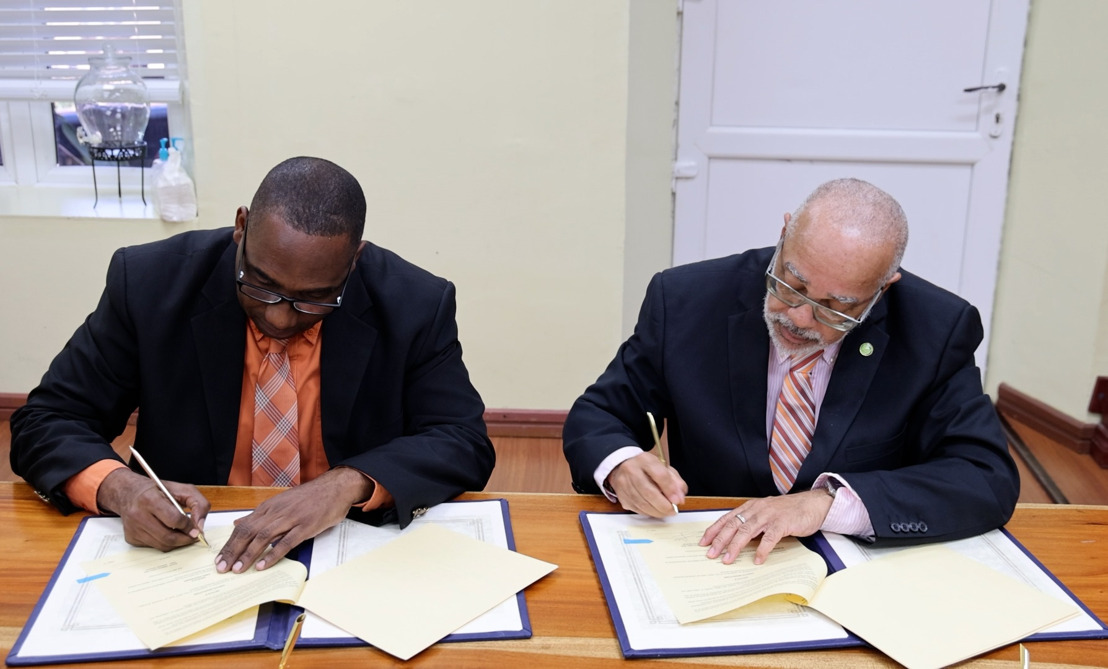 OECS Commission and CARILEC sign MOU to advance Sustainable Energy in the Eastern Caribbean
Remarks by OECS Director General Dr. Didacus Jules at the Signing Ceremony of the MOU between the OECS Commission and CARILEC on November 8, 2023.
Thursday, November 9, 2023 —

I am elated that the Organisation of Eastern Caribbean States (OECS) Commission and the Caribbean Electric Utility Services Corporation (CARILEC) will formally cement a partnership through this Memorandum of Understanding (MOU). This is indeed a historic move to strengthen the sustainable energy landscape within the Eastern Caribbean.

Amidst a backdrop of escalating energy costs and the pressing global push for cleaner, more sustainable energy sources and practices, the OECS takes this opportunity to pledge its commitment to embark on a strategic alliance with CARILEC that aims to revolutionise the energy sector for the economic and social benefit of the region. This MOU underlines a shared vision to harness the right energy mix, spur innovation, and promote policies that will steer the Eastern Caribbean towards a more secure, resilient and sustainable energy future.

The Member States of the OECS have experienced firsthand the detrimental effects of the global energy crisis. The partnership outlined in the MOU acknowledges the urgent need to reevaluate existing energy strategies and push for swift, ambitious and innovative action to explore and exploit cheaper and cleaner indigenous energy sources. It also recognises the need for new cooperation models amongst energy stakeholders including enhanced joint planning by the public and private sectors.

Furthermore, this MOU recognises energy development as a critical priority for the socio-economic advancement of the region. CARILEC's role as a pivotal player in the sustainable energy transition in the Caribbean is central to this collaboration, with the organisation poised to lead in elevating the standards of electric utility services and championing the interests of the power industry across the Caribbean.

The implementation of this MOU is set within the scope of the available resources and legal frameworks of both organisations. I anticipate that the OECS and CARILEC will ensure the proper reporting and recognition of their collaboration, enhancing their shared mission and objectives.

I believe that this significant agreement paves the way for transformative change in the energy sector, creating a pathway for energy security and socio-economic development in the OECS through collective action and strategic partnerships.

Thank you.
OECS Communications Unit Organisation of Eastern Caribbean States