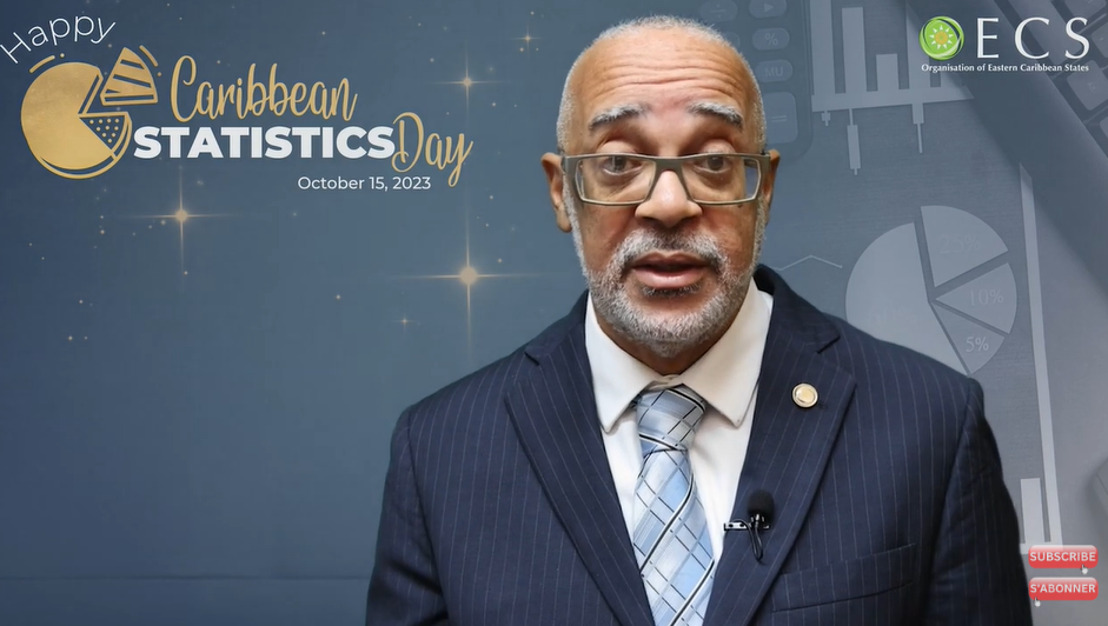 OECS Celebrates Caribbean Statistics Day
Address by OECS Director General Dr. Didacus Jules on the observance on the 15th Caribbean Statistics Day on October 15, 2023.
Monday, October 16, 2023 —

On October 15, 2023 the Caribbean celebrates the 15th 'Caribbean Statistics Day" which this year is themed "One Voice, One CARICOM, Everyone Counts".

Caribbean Statistics Day is a day dedicated to appreciating the pivotal role that statistics play in shaping the development trajectory of our vibrant and diverse region.

Why are statistics important?

Statistics are more than mere numbers. They are the pulse that keeps us informed about the health, prosperity, and challenges of our societies. They enable governments, businesses, and individuals to make evidence-based decisions, supporting sustainable development and ensuring that no one is left behind.

In the Caribbean, where our nations are known for their rich cultures, stunning landscapes, and resilient people, statistics serve as a vital tool to safeguard our communities and propel our regional development. From tourism to agriculture, from public health to education, accurate and timely data is instrumental in forging pathways toward equitable growth and stability.

The data collected through surveys, censuses, and other means unveil the multifaceted realities of our populations. They shed light on disparities, revealing areas that require intervention, and ensuring that resources are allocated effectively to enhance the well-being of our citizens.

In an era where we are grappling with challenges such as climate change, economic vulnerabilities, and public health crises, robust statistical systems are our guiding light, steering us toward informed strategies and resilient futures. Our Caribbean islands, often find themselves in the frontline against climatic adversities, particularly underscoring the urgency of data-driven approaches in mitigating environmental and associated socio-economic risks.

However, it is imperative to acknowledge the challenges that encumber our statistical systems – such as limited resources, technological gaps, and capacity constraints. Addressing these challenges requires strengthening regional cooperation and collaboration, sharing knowledge, and leveraging collective expertise. Through unity and shared purpose, we can enhance our statistical frameworks, ensuring they remain robust, inclusive, and attuned to our unique regional contexts.

On this Caribbean Statistics Day, let us therefore take a moment to express our gratitude towards our statisticians, data scientists, and all professionals working tirelessly behind the scenes, converting raw data into meaningful insights. Your dedication enables us to navigate through complexities, ensuring our strategies are rooted in our empirical reality and are responsive to the needs of our people.

What are we currently doing to build our capacity in the OECS?

In June 2022, the Commission initiated an OECS World Bank funded, Data for Decision Making Project. The main objective of the project is to improve the capacity of participating Eastern Caribbean Countries to produce and publicly disseminate statistical data for country and regional level analytics by undertaking a comprehensive restructuring of the architecture of statistics in the OECS.

On October 11th the Commission launched the OECS Regional Data Governance Council (RDGC) whose main objective is to ensure a regional statistical system that is empowered, resilient, sustainable, and visible. The RDGC will be tasked with harmonizing data policies and practices, including how economic, social, climate and environmental data are captured, produced, managed, and propagated across the OECS region. The RDGC and its subcommittees and working groups will lead the decisions on statistical harmonization, review new instruments and methods, and make recommendations to the National Statistics Offices based on the findings.

In building this new statistical ecosystem, the Commission will support experimentation of methodological innovations appropriate in small island state contexts, the uses of alternative data. We will also ensure the dissemination of experimentation results including the use of emerging technologies inclusive of artificial intelligence.

The Power of Geographic Information Systems in Statistics is another specific area of focus that the Commission will continue to explore.

We stand at the confluence of data, geography, and decision-making. Our commitment to statistics reflects our dedication to informed, evidence-based policy decisions that guide the Caribbean towards a brighter future.

Significance of Spatial Data in Statistics

In an increasingly globalized world (and most importantly for Small Island Developing States), our environments, economies, and societies are intrinsically spatial and interconnected. Every data point we gather, from the migration patterns of our citizens to the growth of our businesses, exists within a geographical (and small) context. By understanding phenomena from a geographic perspective, we unlock new layers of knowledge. This is particularly pertinent when we consider issues such economic disparities, which can manifest differently from one island to the next, or even within an island; or the management of our rich natural resources, which are distributed uniquely across our Caribbean landscape.

GIS has been instrumental in mapping hurricane impact zones, predicting which areas will need urgent aid, and which infrastructure points are most vulnerable. It aids in the study of coastal erosion patterns, which is vital as we combat the impacts of climate change. And from an urban planning perspective, GIS helps us locate ideal sites for essential services like schools and health facilities.

Furthermore, when we integrate our rich census data with GIS, we will be able to perform spatial analyses that reveal patterns in population distribution, health access disparities, and economic hubs.

The UN Global Statistical Geospatial Framework offers a set of guidelines to ensure that geostatistical data is produced and used with the highest degree of efficiency, consistency, and comparability.

With a shared global methodology and standards, we are ushering in a new era of geostatistical harmony. The union of statistical and geospatial information is gaining momentum on the global stage. The United Nations, recognizing the immense value of this synergy, introduced the Global Statistical Geospatial Framework.

The framework offers a set of guidelines to ensure that geostatistical data is produced and used with the highest degree of efficiency, consistency, and comparability. With a shared global methodology and standards, statistical data is becoming both geospatially consistent and comparable on a global scale.

For the Caribbean, this framework is more than just a set of guidelines— it is an opportunity. It allows us to strengthen our regional cooperation, ensuring that our geostatistical data speaks the same language, whether you're in St. Lucia, Grenada, or St. Vincent and the Grenadines. It bolsters our capacity to track our progress on the Sustainable Development Goals, affording us a spatial lens through which we can better understand our challenges and milestones. Above all, it supports informed policymaking by providing a comprehensive, multi-dimensional view of social, economic, and environmental issues unique to our region.

What is the future of statistics in the OECS?

The future of statistics is big data – the integration of all data across silos so that we can interrogate that data in ways that not simply describe our reality, but which enables us to transform it.

We urge Caribbean nations to recognize the immense and special value of GIS for small states and to seamlessly integrate it into statistical activities. To maximize benefits, we must invest in training and capacity-building initiatives, ensuring that our statistical offices and stakeholders are well-versed in the intricacies of GIS.

Moreover, this is a journey we cannot undertake in isolation. Partnerships are key. We need our governments, academic institutions, private sectors, and civil society to work together, leveraging the collective power of geostatistics for the greater good.

As we ponder on the future, it is crucial to emphasize the role of technology and innovation in advancing our statistical endeavors. By integrating digital technologies and adopting innovative methodologies, we can enhance the accuracy, timeliness, and relevance of our data, ensuring it truly reflects our evolving societies.

In closing, let me reiterate our commitment to strengthening our statistical systems, investing in our data infrastructure, and nurturing a culture that values and utilizes data as a key instrument for sustainable development.

Thank you for your attention, and may we continue to harness the power of statistics to carve out a future that is prosperous, equitable, and resilient for all Caribbean people.

Happy Caribbean Statistics Day to each and every one of you.
OECS Communications Unit Organisation of Eastern Caribbean States