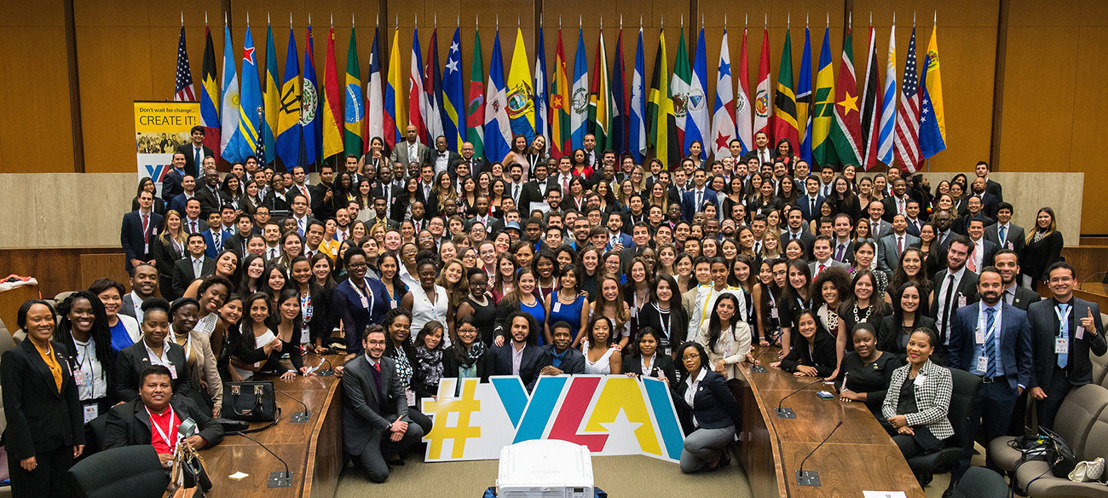 OECS 30 Under 30 Winners represented at Young Leaders of the Americas Initiative
Johanan Dujon, Shane Javed Browne and Janeel Boon to receive hands-on business training
Wednesday, October 3, 2018 — Three OECS 30 Under 30 winners have been selected to participate in the 2018 cohort of the Young Leaders of the Americas Initiative (YLAI) Professional Fellows Programme which builds linkages between young leaders across the hemisphere.
YLAI addresses the opportunity gap for youth by empowering business and social entrepreneurs with the training, tools, networks and resources they need to transform their societies and contribute more fully to economic development and prosperity, security, human rights and good governance in the hemisphere.
Shane Javed Browne and Janeel Boon of Saint Kitts and Nevis; and Johanan Dujon, of Saint Lucia are currently immersed in a the YLAI Professional Fellows Programme – a 5-week course for entrepreneurs, funded by the U.S. Department of State's Bureau of Educational and Cultural Affairs.
The three OECS entrepreneurs attended the Young Leaders of the Americas Initiative 2018 Launch in Detroit, Michigan on September 20, 2018 where they were able to meet over 200 other promising leaders from Latin America and the Caribbean.
All three have now been transferred to the various states within the United States where they have been paired with select businesses to expand their leadership and entrepreneurial skills and network through skills-building workshops and opportunities to learn from and exchange with U.S. counterparts.
Shane Javed Browne noted the care that was placed in pairing participants with relevant businesses to ensure an effective learning experience.
"We are all paired with businesses that are similar to what we do at home. I am quite lucky in that I will be attached to 4 different businesses."

"There is so much to gain and learn from this experience. I am looking forward to working together as a team to research and find new ideas and concepts to expand our businesses and take them to the next level," Browne commented.
Shane Javed Browne
Shane Javed Browne from Saint Kitts and Nevis is the Founder and CEO of the retail store SKN Village. Dedicated to satisfying the fashion-forward style of millennials, SKN Village offers trendy gear at affordable prices on an online shopping platform.
Shane is partnered with Do Good Co., a nonprofit lifestyle store in Kansas City that offers curated home furnishings and apparel. Through donations and purchases at this innovative retail concept store, patrons make a direct impact in the lives of thousands of homeless pets and children in need across the Kansas City community through the KC Pet Project and KidsTLC.
Janeel Boon
Janeel Boon from Saint Kitts and Nevis is the CEO of Boon's Computer Repairs, a company that aims to provide computer services and educate community members about the computer world.
Janeel is partnered with NWG Solutions, Charlottesville's new breed of computer repair and managed IT services. NWG offers critical care for computer networks quickly and efficiently, day or night.
Johanan Dujon
Johanan Dujon from Saint Lucia is the Founder and Managing Director of Algas Organics, the Caribbean's first indigenous agriculture biotechnology company. Algas Organics uses Caribbean plants to formulate environmentally-friendly agricultural inputs, which are designed to improve crop resilience and increase yields without harming their users or damaging the environment.
Johanan is partnered with Little Rock Urban Farming (LRUF), a community based food enterprise located in the heart of Little Rock, Arkansas. LRUF specialises in the production of organic fruits, vegetables, herbs and cut flowers for local markets, and is dedicated to urban organic food production.
The YLAI Professional Fellows program will conclude on October 23, 2018 in Washington, D.C.
The participants will then join the more than 500 alumni of past YLAI Professional Fellows Programmes who maintain a cohesive network across Latin America and the Caribbean to support each other's efforts to improve their own ventures, share best practices, and collaborate to reduce the opportunity gap and contribute to economic prosperity in their communities.
About the Youth Leaders of the Americas Initiative
The Young Leaders of the Americas Initiative (YLAI) empowers entrepreneurs to strengthen their capacity to launch and advance their entrepreneurial ideas and effectively contribute to social and economic development in their communities.
This programme is open to young entrepreneurs 25-35 years of age, selected for participation via a competitive application process.
About the OECS 30 Under 30 in Entrepreneurship Initiative
Through its Youth Empowerment Strategy (YES), the OECS Commission launched its 30 Under 30 in Entrepreneurship initiative which recognised thirty young entrepreneurs under the age of 30 as examples of youth success in the region.
Winners would form a cohort for business support by the OECS Competitive Business Unit; receive mentorship to aid their professional and business development; receive technical assistance; and be assisted in sourcing markets and financial assistance.
OECS Communication Unit Organisation of Eastern Caribbean States