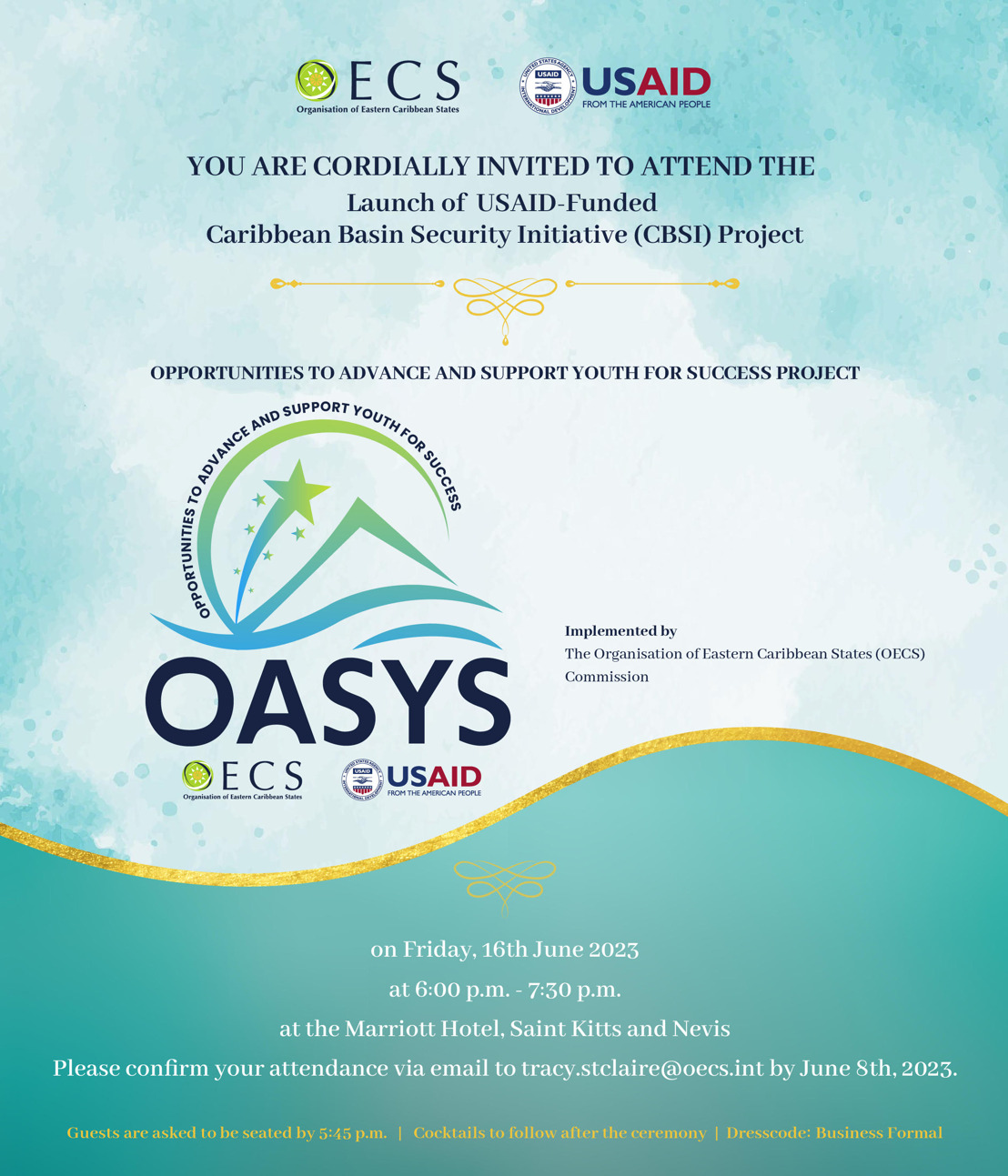 [Media Invitation] Launch of OASYS Project in St Kitts and Nevis
INVITATION TO COVER
Tuesday, June 13, 2023 —

WHAT: Launch of the Opportunities to Advance and Support Youth for Success (OASYS) Project in St. Kitts and Nevis. The Project is being implemented by the OECS Commission, and funded by USAID.

WHEN: Friday, June 16, 2023

TIME: 6 p.m. - 7:30 p.m. (AST)

WHERE: St. Kitts Marriott Resort, St Kitts and Nevis

VIRTUAL: View on the OECS YouTube Page
OASYS Project Description
The Organisation of Eastern Caribbean States (OECS) Commission and USAID have partnered with national and local government and non-government stakeholders to design the OASYS Project, which builds on the achievements of the previous Juvenile Justice Reform Program II (2016-2022). OASYS will focus on increasing the diversion of youth away from courts and custodial sentences, supporting rehabilitation centers and diversion programs to use evidence-based diagnoses and treatment and facilitating reintegration of youth leaving rehabilitation facilities into their families and communities.
About the Organisation of Eastern Caribbean States – OECS:
The Organisation of Eastern Caribbean States is an international organisation dedicated to economic harmonisation and integration, protection of human and legal rights, and the encouragement of good governance among independent and non-independent countries in the Eastern Caribbean comprising Antigua and Barbuda, Commonwealth of Dominica, Grenada, Montserrat, St. Kitts and Nevis, Saint Lucia, Saint Vincent and the Grenadines, British Virgin Islands, Anguilla, Martinique and Guadeloupe.
Nyus Alfred Communications Officer, Organisation of Eastern Caribbean States
OECS Communications Unit Organisation of Eastern Caribbean States