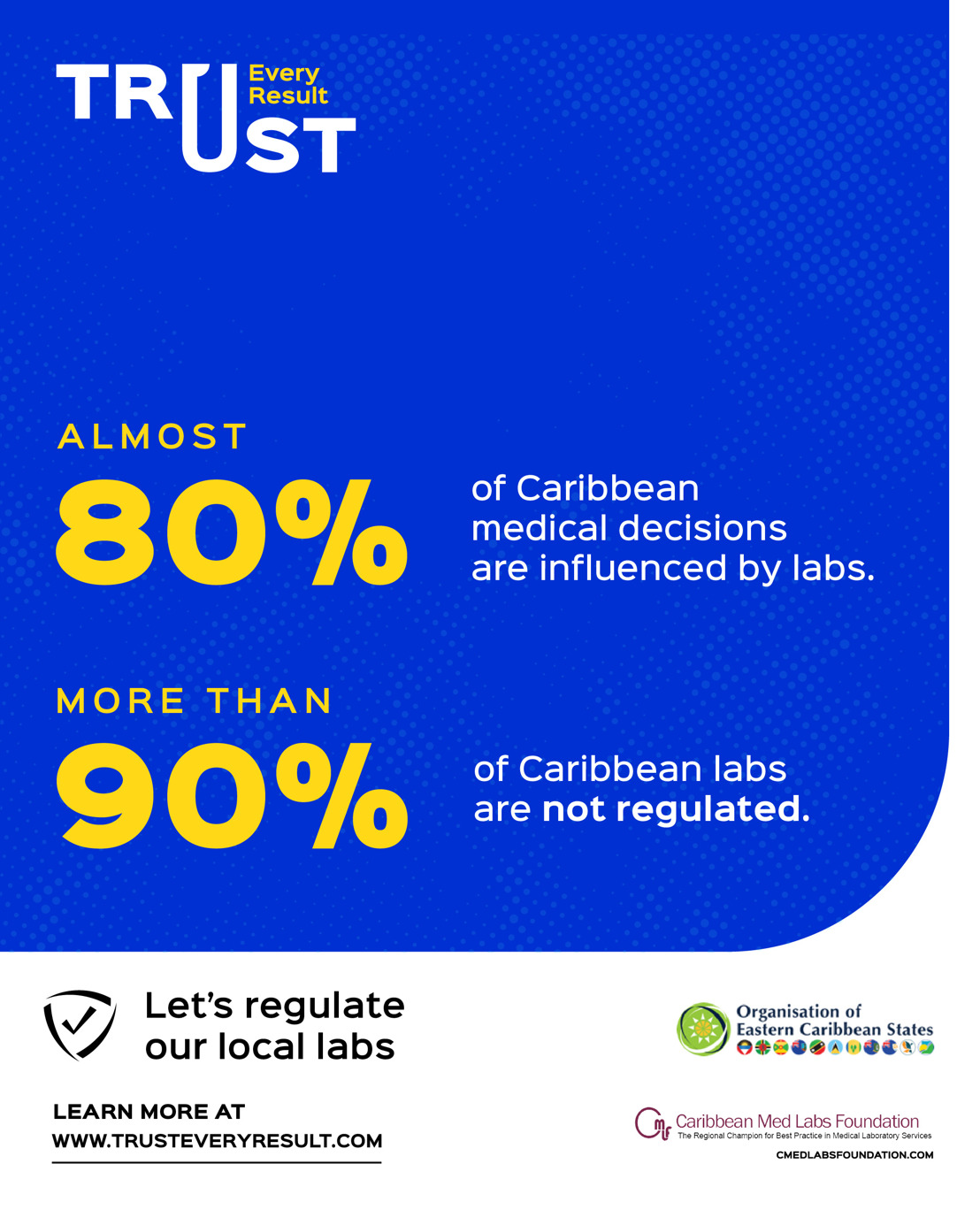 It is Time to Trust Every Result - OECS and Caribbean Med Labs Foundation Launch a Campaign to Regulate Caribbean Labs
Joint Media Release
Monday, September 25, 2023 — The Caribbean Med Labs Foundation, in partnership with the Organisation of Eastern Caribbean States (OECS), is proud to announce the official launch of the "Trust Every Result" Campaign, a groundbreaking initiative to transform laboratory regulation in the Caribbean region.
For over two decades, the Caribbean Med Labs Foundation, together with regional governments and development organizations, has worked to elevate laboratory standards across the Caribbean. Despite significant progress, today, less than 10% of Caribbean laboratories are regulated, creating an urgent need for comprehensive laboratory regulation that prioritizes the health and well-being of Caribbean Populations.
Commenting on the work done to date "Ms. Valerie Wilson, Director of the Caribbean Med Labs Foundation shared,
"We have collectively, made significant progress but much more has to be achieved to ensure we can trust every result."
The "Trust Every Result" Campaign serves as a resounding call to action, underscoring the pivotal importance of instilling trust in every laboratory result, whether emanating from clinical or public health laboratories.
Globally, the imperative of regulating medical and public health laboratories to safeguard populations from substandard practices has gained increasing recognition. Dr. Jules, Director General of the OECS, speaking on the global transformation of laboratory services emphasized:
"Over the past decade lab services around the World have been undergoing significant reform and transformation, it is imperative that Governments take the lead in introducing standards and laws to regulate medical and public health labs comprehensively...the pace of transformation in the Caribbean must accelerate...."
In a region confronted by persistent challenges, from natural disasters to global pandemics, and the relentless burden of Non-Communicable Diseases (NCDs) that strain valuable resources, the "Trust Every Result" Campaign was designed to mobilize widespread community support for lab regulation across island communities.
Dr. The Honourable Prime Minister Ralph Gonsalves of St. Vincent & the Grenadines has championed the Trust Every Result Campaign. In 2022, St. Vincent took the lead by introducing a national laboratory policy and enacting legislation to regulate medical laboratories. Dr. Gonsalves asserted:
"We have to ensure that every dimension of medical laboratories be of a top quality to provide efficacious results to the medical practitioners and other professionals in the health field."
The work of Dr. Gonsalves and the St. Vincent and the Grenadines Ministries of Health and Legal Affairs teams serves as a model for other Caribbean nations to follow.
With over 80% of medical decisions influenced by laboratory results, clinical and public health laboratories, both public and private, play a pivotal role in sustaining healthcare ecosystems across the region.
The "Trust Every Result" Campaign represents a clarion call for change. It implores Caribbean communities, governments, and laboratory providers to unite and prioritize the regulation of medical and public health laboratories.
Voice your support for laboratory regulation. Visit www.trusteveryresult.com and sign the petition to regulate Caribbean Labs.
Malika Thompson-Cenac Communications Specialist, Organisation of Eastern Caribbean States
OECS Communications Unit Organisation of Eastern Caribbean States