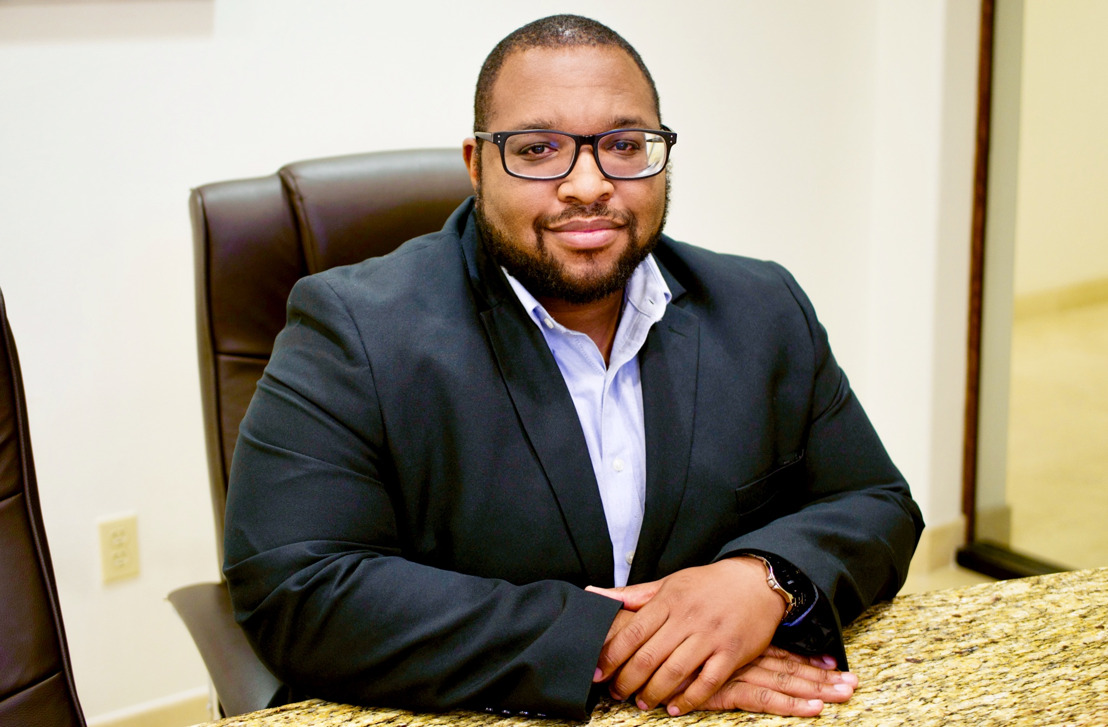 Improving Financial Literacy
OECS Feature Series highlights St. Kitts and Nevis national advocating for financial security in low income communities
Monday, August 6, 2018 — It was in the small village of Newtown in the capital city of Basseterre, St. Kitts and Nevis, where Dr. Terrance K Martin Jr would first learn the importance of financial planning – a skill that he would perfect throughout his academic career and later use to uplift low income communities.
Raised in his formative years by his aunt and grandmother, a devout Christian, Terrance would spend every Sunday morning in church and every Sunday afternoon at his grandmother's Sunday school where she would encourage the local church members to be financially secure through her savings scheme.
"Every Sunday she would collect the monies, then make a deposit during the week and update her records. At the end of the year, she would withdraw all the funds and distribute the interest among the participants in the scheme."

"Now, my nanny had no formal education yet she was calculating weighted averages to accurately divide the interest on the funds. Seeing this at a young age blew my mind!"
As a teenager, Terrance became heavily involved in youth advocacy groups, he held the positions of President of the National Young Pamites; President of the Clarence Fitzroy Bryant College (CFBC) Student Council; Executive Secretary of the Caribbean Young Democratic Union; and actively participated and represented the Peoples Action Movement (PAM).
Participation in the youth organisations afforded Terrance the opportunity to travel throughout the Caribbean to present on topics such as regional integration and food security as a measure of economic empowerment.
Once at the Community College, he became involved in politics but his interests were still focused on economic policy. Terrance fondly remembers the guidance and encouragement of his Economic professor at the Clarence Fitzroy Bryant College, Mr. Heyliger, who would take the class out of the classroom and to the Eastern Caribbean Central Bank's (ECCB) fora to show the students the application of what was taught in the classroom – efforts that deepened his love for economics.
Terrance would go on to successfully graduate with his Bachelor's in Economics with the highest honours (Summa Cum Laude) from Midwestern State University in Texas. Equip with the strong foundation laid at CFBC, he was able to complete the degree in only two years. He then, quickly moved onto attaining his Master's in Business Administration (MBA) with a research topic which examined the economic impact of tourism arrivals and receipts on the Caribbean Community (CARICOM).
Finally, at the age of 27, he obtained his Doctorate of Philosophy (PhD) in Financial Planning. All within a remarkable seven-year span.
Terrance's accomplishments were not without struggle, however.
"Financial support was always a major challenge along the way. Whereas most students had their parents, or government-sponsored grants or scholarships to support them financially, I did not," he noted with regret. "My aunt was very helpful, as she was when I was growing up, but I didn't want to burden her."
Driven by a lack of funds, Terrance would do everything in his power to complete his studies in the shortest possible time – this included doubling his course workload while actively seeking out and maintaining the grades necessary for scholarship benefits.
Unable to find employment in his native Saint Kitts and Nevis once he attained his Bachelor's degree, he secured another scholarship and returned to school in pursuit of a Masters.
"I completed the Masters in 1 year, and became the first student to achieve this, not because I wanted to be first but because I had financial constraints. I had a scholarship that covered tuition, but it was only for 1 year."
In a stroke of ill fortune, Terrance's graduation with his MBA would coincide with the recession in the United States, making it extremely difficult to find a job in his field. Miserable, and working odd jobs to make ends meet, Terrance considered a suggestion from a colleague to pursue a PhD in Personal Financial Planning – a cross between microeconomics and finance.
"Initially I resisted, but when I looked at the details of the coursework, I heard my grandmother's voice telling me this is where I should be," he fondly recalled. "I applied, and I was accepted with full assistantship and the AT&T Chancellor Fellowship."
During his PhD studies, Terrance was blessed with the birth of his daughter, Nyah, who would become his biggest motivator for success.
"Nyah was my motivation to not quit, to keep fighting and to smile through the difficult times. She was the reason I pushed myself and graduated from my PhD programme in three years when it should have taken 5-6 years."
Terrance's PhD dissertation, Three Essays on Planning for Retirement, would open the door to a faculty position in finance with an emphasis on financial planning at the University of Texas Pan American, which later became the University of Texas Rio Grande Valley. He also served as the Centre Director for the Edinburg Centre of Economic Education, Director of Financial Literacy initiatives and Program Director of the College of Business and Entrepreneurship's Personal Financial Planning Program.
Currently, Dr. Martin is an award-winning researcher and an Assistant Professor of Finance at Utah Valley University. His University courses focus on corporate and household finance. In the capacity of researcher, Dr. Martin discusses financial advice and financial decision making.
On a community level, he advocates for improved financial literacy and has raised over $100,000 in three years to help support his efforts of improving financial decisions among low income individuals in two of the poorest counties in the United States. Dr. Martin also wrote the curriculum of a state adapted high school for financial literacy. His research has been featured on NASDAQ.com, CNBC, CNN Money, Yahoo Finance, WalletHub, the Wall street Journal, Forbes, Kiplingers as well as several newspapers and magazines across the United States of America.
Dr. Martin's work has also been presented on an international scale having been invited as a speaker at National and International symposiums in the USA, Europe, Argentina and the Caribbean.
He recently held a Financial Literacy Seminar in Antigua and Barbuda which was endorsed by the Office of the Prime Minister. Since then, he has been to offer Financial Literacy presentations to several organizations and companies both in Antigua and the wider region.
"It takes financial knowledge to know you are making financial mistakes. This is why I launched the Financial Adulting Initiative via my company Evolve XY , to change Generations X and Y," Dr. Martin said.
As a part of the initiative, Dr. Martin is writing a series of "How to" books on various financial topics. The first being a How to on Caribbean Investing, with topics on insurance, small businesses, credit and borrowing. He also plans to launch an online personal finance class with the aim of increasing financial literacy in the region.
When asked what advice he would give to young persons in the sub region that may be interested in following his career path, Dr. Martin said:
"Follow your heart but be practical. Understand that the academic path you are on has consequences. It costs us all the same to go to school, but different degrees have different returns on investments. Choose carefully! Choose a career that matches your personality because, when you do, you will feel so enriched by the work that you do daily."

"Do not be afraid to challenge the status quo. I am taking my own advice during this next step in life as I re-enter the region as an expert. If you see something that you can change, start the process of changing it."
ABOUT THE OECS FEATURE SERIES:
The OECS Feature Series is an initiative that seeks to feature the accomplishments of consummate professionals from OECS Member States making strides within the region and in the Diaspora.
The project highlights one outstanding OECS national on a quarterly basis and aims to inspire the region's youth to 'think big' and open their minds to extraordinary possibilities through the success stories of their OECS peers.
Criteria for nominations include: being a national of an OECS Member State; possessing an academic distinction of the highest order; scientific invention; high political accomplishment (regionally and in the Diaspora); and extraordinary community or national service achieved (regionally and in the Diaspora).
| | |
| --- | --- |
| | This story aligns with OECS Strategic Objective No.5: Drive Key Economic Priorities. |
Dr. Terrance K. Martin Jr Award-winning Researcher and Assistant Professor of Finance
Tahira Carter OECS Communications, Organisation of Eastern Caribbean States
OECS Communications Unit Organisation of Eastern Caribbean States