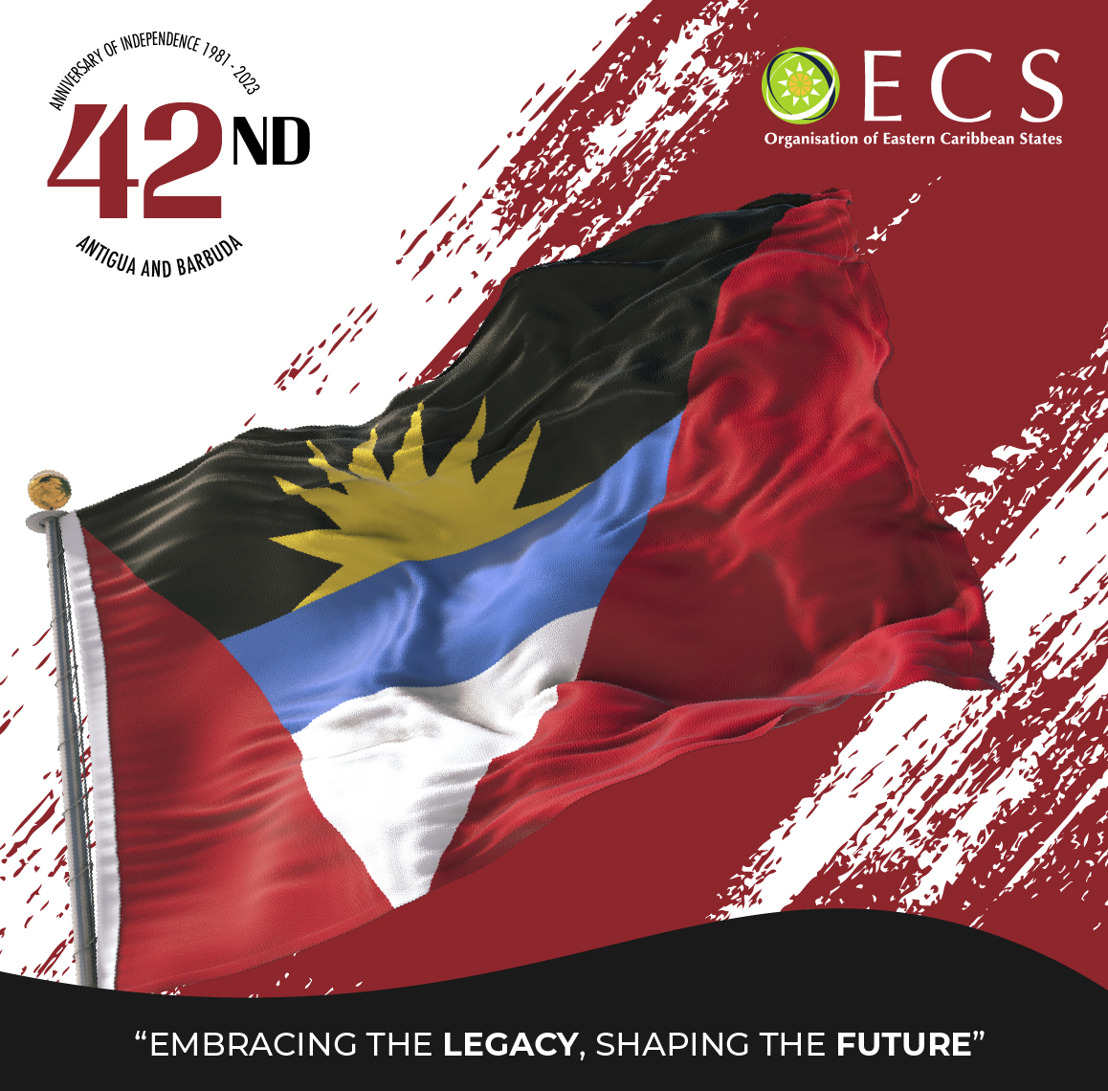 Happy 42nd Anniversary of Independence Antigua and Barbuda!
OECS Media Release
Friday, November 3, 2023 — The Organisation of Eastern Caribbean States (OECS) Commission extends its sincere congratulations to the Government and people of Antigua and Barbuda on the occasion of the nation's 42nd Anniversary of Independence on November 1, 2023. This year's Anniversary is being celebrated under the theme, 'Embracing the Legacy, Shaping the Future.'
In commemoration of this milestone, the OECS Commission held a virtual flag raising ceremony to celebrate Antigua and Barbuda's progress and achievements over the past 42 years. The ceremony featured a recorded message from the Prime Minister of Antigua and Barbuda, Hon. Gaston Browne, and remarks by the Director General of the OECS, Dr. Didacus Jules.
Prime Minsiter Gaston Browne started his remarks by reconfirming Antigua and Barbuda's commitment to the regional purpose of the establishment of the OECS. He continued,
'Just as our leaders of over 40 years ago saw the turbulence of their times and devised the mechanisms that we now call the Organisation of Eastern Caribbean States (OECS), so must we now strengthen these mechanisms for our own survival; for in this world we need not just survive, but thrive. Our people deserve, after all the injustices of our history, to emerge on the high plain of economic development and prosperity. The best way that we as small island states can secure an economic future and economic fortunes, is to strengthen our OECS mechanisms that were put in place to defend us against the buffeting winds of economic dislocation.'
In his remarks, OECS Director General Dr. Didacus Jules applauded the people of Antigua and Barbuda for their tenacity and unwavering commitment towards nation building. According to Dr. Jules,
'Antigua and Barbuda, a nation of indomitable spirit and vibrant culture, has never been just about the land and its boundaries. It has always been about its people, their dreams, their aspirations and the legacy they leave behind; a legacy carved out of resilience, unity and an unfaltering commitment to nation building.'
Dr. Jules continued,
'If history has taught us anything, it is that we the people have the power to shape our destiny. Today, as we stand on the threshold of a world every changing and increasingly interconnected, it is imperative that we not only safeguard our legacy, but also reimagine it for the generations to come.'
The OECS Commission acknowledges the significant contributions that Antigua and Barbuda has made to the growth and development of the OECS family. The Commission looks forward to continuing to serve the Government and people of Antigua and Barbuda in their ongoing quest to achieve their development aspirations.
Nyus Alfred Communications Officer, Organisation of Eastern Caribbean States
OECS Communications Unit Organisation of Eastern Caribbean States