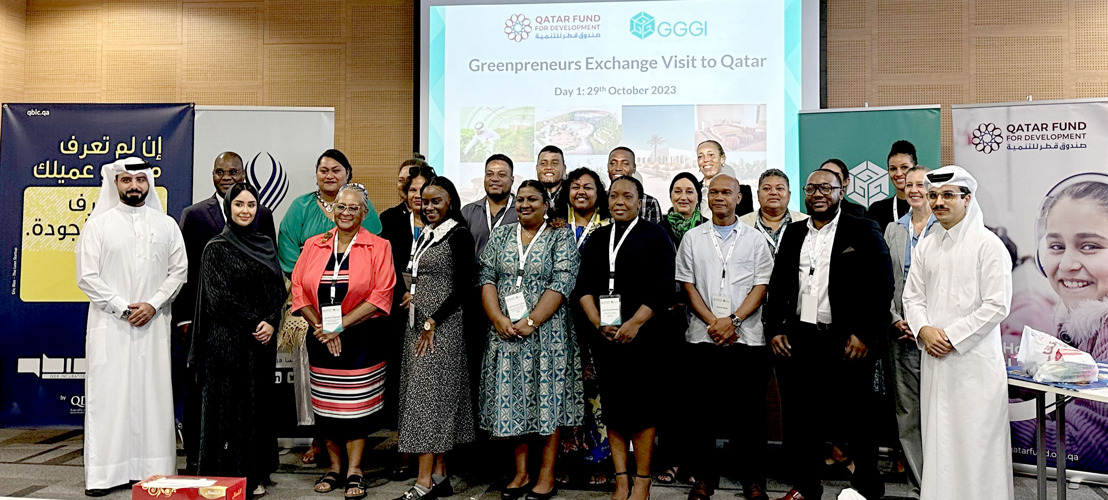 GGGI Pacific and Eastern Caribbean Greenpreneurs Embark on Exchange Visit to Doha, Qatar
Media Release Courtesy GGGI
November 1, 2023 — ​ The Global Green Growth Institute (GGGI) is pleased to announce the commencement of the Greenpreneurs Exchange Visit for the GGGI Pacific and Eastern Caribbean Greenpreneurs to Doha, Qatar. This unique opportunity cohosted by GGGI, and the Qatar Fund for Development aims to provide a platform for promising green entrepreneurs from the Pacific and Eastern Caribbean regions, who were part of the Pacific Green Entrepreneurs Network (PGEN) and the Eastern Caribbean Green Entrepreneurship Initiative (ECGI). The goal is for these participants to gain valuable insights, build strong networks, and learn from Qatar's dynamic and innovative green sector.
During this exchange visit, participants will have the opportunity to engage in a series of workshops, site visits, and interactive sessions with leading industry experts and fellow entrepreneurs in Qatar. The visit is designed to foster cross-cultural learning and collaborations, ultimately driving sustainable development efforts in the respective regions.
Participants selected for the Greenpreneurs Exchange Visit are:
Think & Play Ag Tech Centre

St. Vincent & the Grenadines

Organic Fish +
​Farm Mariculture Enterprise

St. Vincent & the Grenadines
The GGGI Pacific and Eastern Caribbean Greenpreneurs Exchange Visit is a testament to GGGI's commitment to fostering green entrepreneurship and supporting sustainable development in small island developing states around the world. This initiative provides a unique platform for entrepreneurs to gain international exposure, exchange knowledge, and establish valuable connections within the global green industry.
The regional Pacific Green Entrepreneurs Network (PGEN) and the Eastern Caribbean Green Entrepreneurship Initiative (ECEI) are 3-year projects implemented by the Global Green Growth Institute (GGGI) to support green entrepreneurship in twelve (12) Pacific Island and Eastern Caribbean countries. The program aims to support green and inclusive job growth by supporting entrepreneurs (particularly women and youth) develop their green and sustainable businesses whose business models include solutions aimed at contributing to their country's climate sustainable development goals.
---
About the Global Green Growth Institute (GGGI)
Based in Seoul, GGGI is a treaty-based international, inter-governmental organization- with 44 Members and over 20 countries and regional integration organization(s) in the process of accession - dedicated to supporting and promoting strong, inclusive, and sustainable economic growth in developing countries and emerging economies. With operations in over 30 countries, GGGI serves the role of an enabler and facilitator of Members' transition into a low-carbon green economy, providing policy advice and technical support in the development of green growth plans, policies and regulations, mobilization of green investments, implementation of green growth projects, and development of local capacities and knowledge sharing. Further information on GGGI's events, projects and publications can be found on www.gggi.org.
About the Global Green Growth Institute (GGGI) – Pacific
GGGI's objective in the region is to support Pacific Small Island Developing States (SIDS) to sustainably achieve national development goals and Paris Agreement commitments by developing strategic frameworks and mobilizing finance to reduce greenhouse gas emissions, create green jobs, increase access to sustainable services and enhance resilience to climate change. Further information can be found at https://gggi.org/country/pacific/
​
About the Global Green Growth Institute (GGGI) - Caribbean
​
​The OECS is a Member of GGGI as a regional body. This membership allows GGGI to work in close partnership with the OECS Commission at the regional level, as well as directly with the governments of the 11 OECS member states at the national level. GGGI maintains an embedded staff presence at OECS headquarters in Saint Lucia and to date has delivered programs in partnership with the governments of Grenada, Dominica, Antigua and Barbuda, and Saint Lucia. Further information can be found at https://www.gggi.org/country/caribbean
For further information visit: https://gggi.org/country/caribbean/
---
About Qatar Fund for Development (QFFD):
Qatar Fund for Development (QFFD) is a Qatari public institution committed, on behalf of the State of Qatar, to implement foreign aid projects by international best practices and standards.
Since 2012, QFFD has been providing aid to many countries in accordance with the international cooperation goals of Qatar National Vision 2030. Its primary goal is to achieve inclusive and sustainable development by addressing global priority issues in education, health, and economic development. In this context, priority is given to the following Sustainable Development Goals:
1. SDG 3: "Ensuring healthy lives and well-being for all";
2. SDG 4: "Ensuring fair and inclusive education for all and enhancing lifelong learning for all";
3. SDG 8: "Promoting sustained, inclusive and sustainable economic growth and keeping full and productive employment and decent work for all."
To realize the optimal development impact, QFFD projects are also designed to have cross-cutting co-benefits within SDG (2) on "Zero hunger" and SDG (6) on "Ensuring availability and sustainable management of water and sanitation for all" in addition to SDG (17) on "Partnerships to Achieve Goals."
QFFD cooperates with many reputable actors through strategic partnerships both locally and internationally. These include Civil Society Organizations, government agencies, UN agencies, and the private sector.
Dinesh Daswani Communications, Global Green Growth Institute (GGGI)
OECS Communications Unit Organisation of Eastern Caribbean States