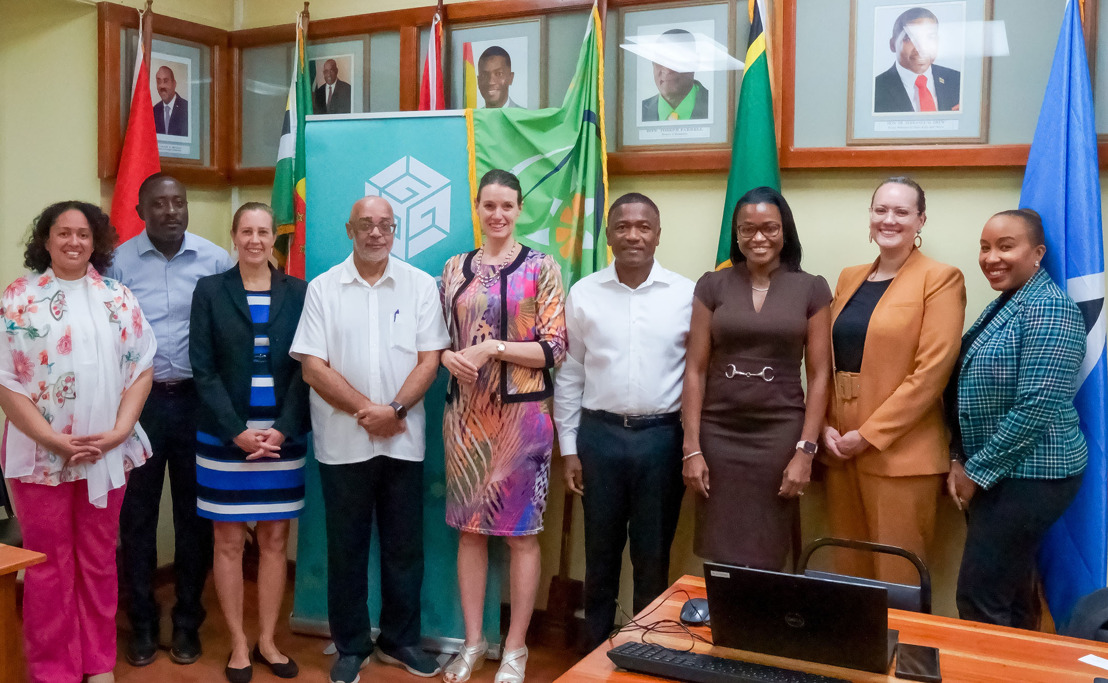 GGGI Deputy Director General and Director for Latin America & the Caribbean, Visit the Eastern Caribbean to Strengthen Cooperation on Green Growth
Media Release courtesy GGGI
Thursday, February 23, 2023 — The Deputy Director General and Head of Global Growth Planning and Implementation, Helena McLeod, along with the Director and Head of programs in Latin America and the Caribbean, Jennifer Zapata of the Global Green Growth Institute (GGGI) visited the Eastern Caribbean between February 13th – 17th, 2023 to meet with Organization of the Eastern Caribbean States (OECS), government officials, and private sector leaders. The visit is part of GGGI's ongoing efforts to support the region in its transition to a green, inclusive, and sustainable economy.
During their visit to Saint Lucia, Ms. McLeod and Ms. Zapata, along with GGGI Caribbean Representative Dr. Kristin Deason, participated in high-level meetings with the Director General of the OECS, Dr. Didacus Jules and his team, Saint Lucian Minister in the Ministry of Finance, Economic Development and Youth Economy, Honorable Wayne Girard, along with senior government officials in the departments of finance and economic development, and other key economic stakeholders in a continued effort to promote green growth in the region. They also visited several green growth projects, including New Flower Regenerative Garden, run by one of the participants in the Green Entrepreneurship Incubator, to see firsthand the positive impact GGGI is having on the local communities and the environment.
Ms. McLeod commented "The Eastern Caribbean is at the forefront of efforts to transition to a green economy, and I am thrilled to visit the region and see the progress being made. GGGI is committed to supporting this region in its efforts to achieve sustainable, inclusive growth and I thoroughly enjoyed engaging with our partners to explore new opportunities for cooperation."
The GGGI delegation also visited Barbados, where they met with USAID, the Canadian High Commission, the UK High Commission, and the European Delegation to further development opportunities in the region.
The visit is part of GGGI's ongoing work in the Eastern Caribbean, where the organization has been an active partner with the OECS since 2019, when the OECS joined GGGI as its first regional member. GGGI Caribbean continues to provide technical assistance, capacity building and policy support to key governments, public and private stakeholders in the areas of climate action, sustainable finance, renewable energy, and green entrepreneurship.
---
About the Global Green Growth Institute (GGGI)
Based in Seoul, GGGI is a treaty-based international, inter-governmental organization- with 44 Members and over 20 countries and regional integration organization(s) in the process of accession - dedicated to supporting and promoting strong, inclusive, and sustainable economic growth in developing countries and emerging economies. With operations in over 30 countries, GGGI serves the role of an enabler and facilitator of Members' transition into a low-carbon green economy, providing policy advice and technical support in the development of green growth plans, policies and regulations, mobilization of green investments, implementation of green growth projects, and development of local capacities and knowledge sharing. Further information on GGGI's events, projects and publications can be found on www.gggi.org.
About the Global Green Growth Institute (GGGI) - Caribbean
The OECS is a Member of GGGI as a regional body. This membership allows GGGI to work in close partnership with the OECS Commission at the regional level, as well as directly with the governments of the 11 OECS member states at the national level. GGGI maintains an embedded staff presence at OECS headquarters in Saint Lucia and to date has delivered programs in partnership with the governments of Grenada, Dominica, Antigua and Barbuda, and Saint Lucia. Further information can be found at https://www.gggi.org/country/caribbean (GGGI Caribbean)
Dinesh Daswani, Communications, Green Growth Planning, and Implementation +1-758-485-1888
​[email protected]
Dinesh Daswani Communications, Global Green Growth Institute (GGGI)