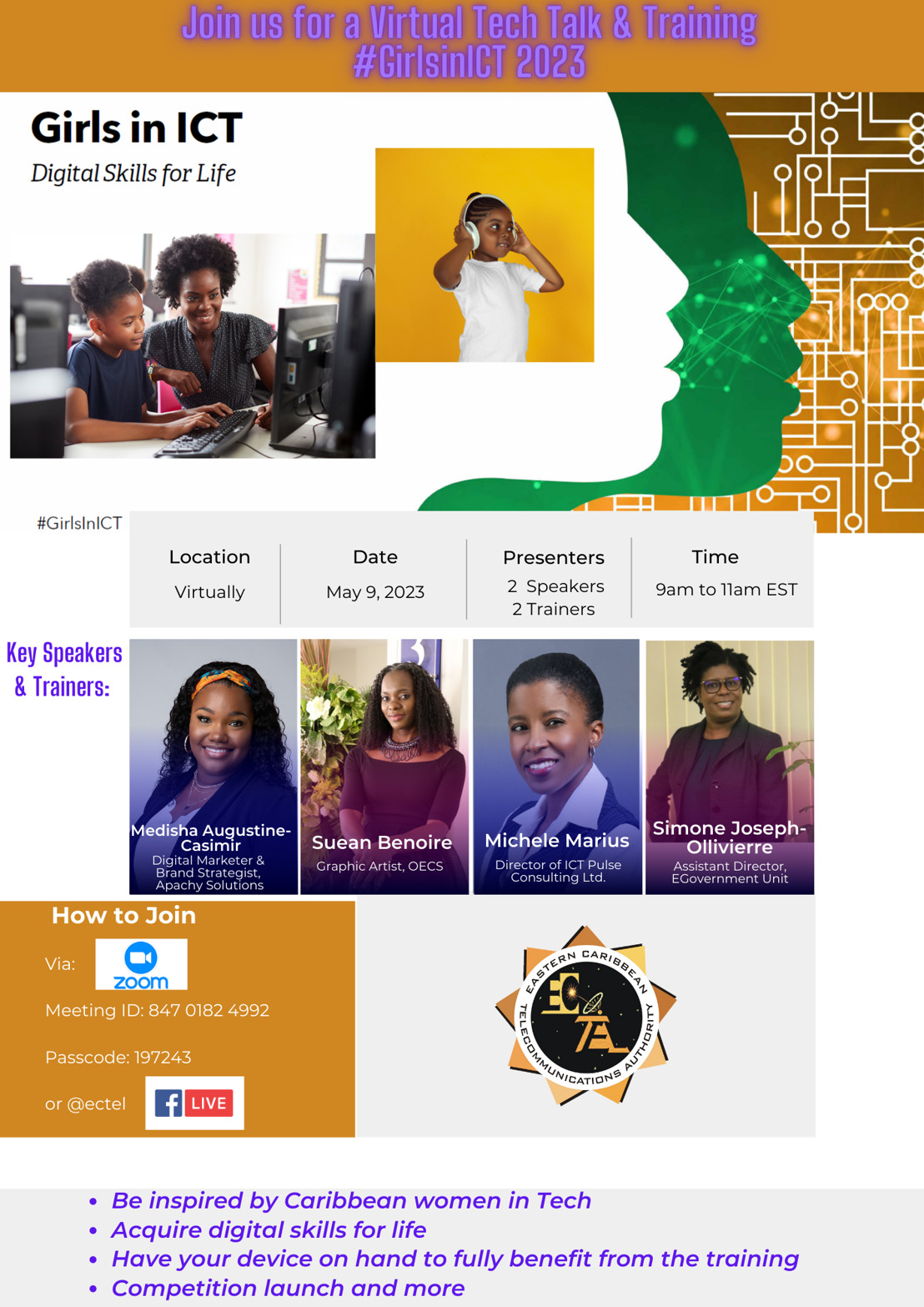 ECTEL Prepares to Stage Girls in ICT Virtual Tech Talk & Training
Thursday, May 4, 2023 — The Eastern Caribbean Telecommunications Authority (ECTEL) is getting ready to host a Virtual Tech Talk and Training dubbed 'Digital Skills for Life' on Tuesday, 9th May 2023. This event forms part of the International Telecommunication Union's (ITU) Girls in ICT observance which is marked annually on the fourth Thursday of April.
According to the ITU, "For girls and young women to thrive in science, technology, engineering and mathematics (STEM) careers, they need to acquire skills to become both ICT users and creators in the digital world." To this end, ECTEL has collaborated with four remarkable Caribbean women to stage a virtual event aimed at encouraging girls to learn more about ICT and pursue studies and careers in this male dominated field.
The inspiring speakers for the event are Michele Marius - Director of ICT Pulse Consulting Ltd. (Saint Lucia) and Simone Joseph-Ollivierre - Assistant Director, EGovernment Unit (St. Vincent and the Grenadines), while the talented trainers are Medisha Augustine-Casimir - Digital Marketer & Brand Strategist, Apachy Solutions (Commonwealth of Dominica) and Suean Benoire – Graphic Design, OECS Commission (Saint Lucia).
ECTEL's Acting Managing Director, Cheryl Hector Fontenelle said, "We are excited to be creating this platform to empower young girls by providing practical digital skills they can use to enhance their lives. Additionally, it is important that we show girls that there are women who look like them who are thriving in ICT in our region."
Girls ages 11 to 18 as well as boys who encourage girls to thrive in ICT are invited to attend ECTEL's Virtual Tech Talk and Training via Zoom: https://us02web.zoom.us/j/84701824992?pwd=dWhQNzJVVHczM1dYWnVPU3BycXJuUT09 (Meeting ID: 847 0182 4992 and Passcode: 197243) on May 9th from 9 a.m. to 11 a.m. A follow-up competition with amazing prizes will be launched at the event.
Since 4th May 2000, ECTEL has been the regional regulatory body advising the National Telecommunications Regulatory Commissions (NTRCs) on electronic communications matters in its five (5) Member States, namely: the Commonwealth of Dominica, Grenada, St. Kitts and Nevis, Saint Lucia and St. Vincent and the Grenadines. In simple terms, ECTEL works with the NTRCs to promote consumer rights and harmonised benefits in the electronic communications sector in its Member States.
Visit www.ectel.int or follow us @ectel on Facebook and YouTube and @ectelauthority on Instagram and Twitter for more information about ECTEL's work, and to meet the presenters of the Girls in ICT Virtual Tech Talk and Training.
Cheryl Hector Fontenelle Managing Director (Acting), ECTEL
OECS Communications Unit Organisation of Eastern Caribbean States