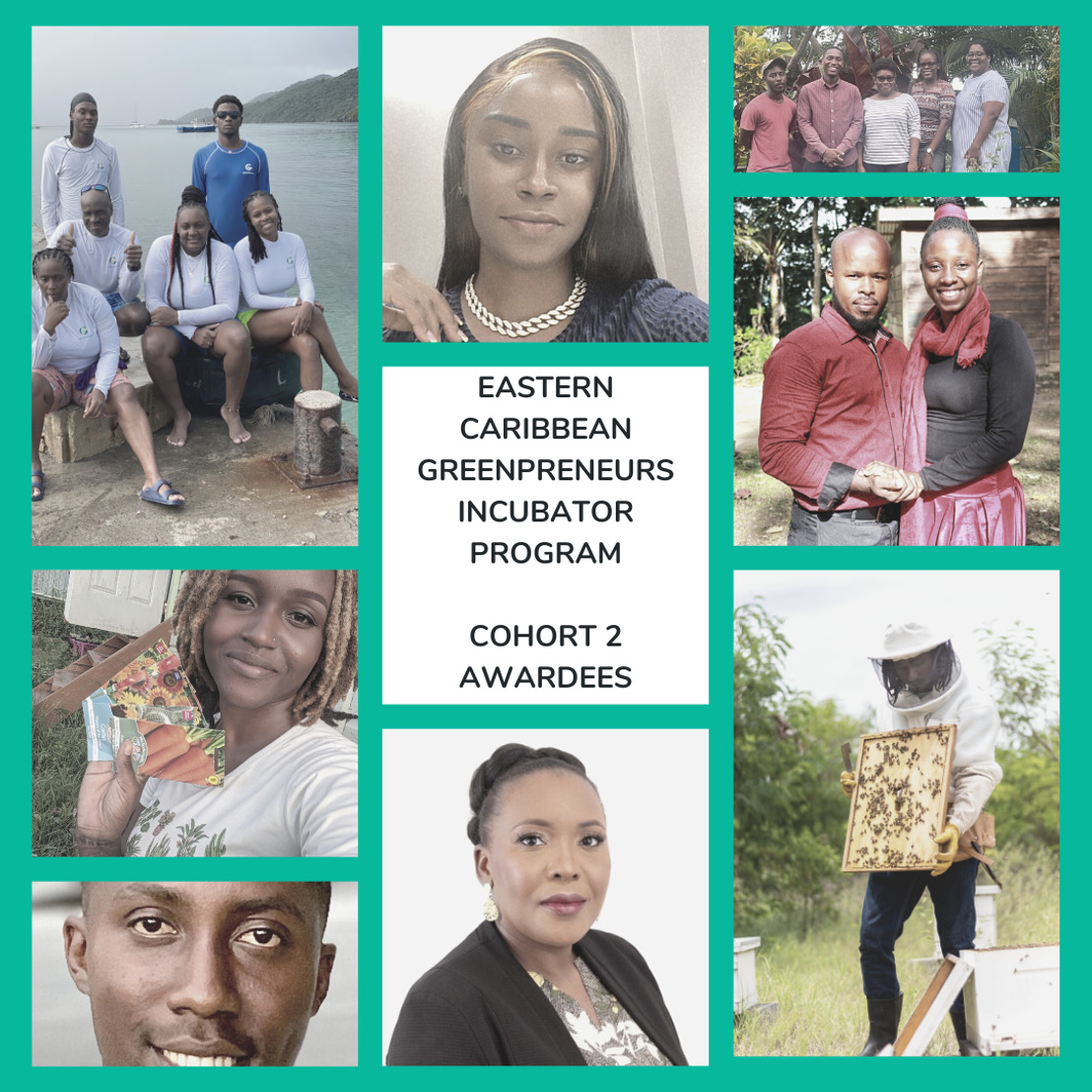 Eastern Caribbean Greenpreneurs Incubator Program Announces Recipients of US $10,000 Seed Grants for 11 Green Businesses
Courtesy of the Global Green Growth Institute (GGGI)
October 12, 2023 — The Eastern Caribbean Greenpreneurs Incubator Program, an initiative aimed at supporting and promoting sustainable business ventures in the Eastern Caribbean region, is pleased to announce the recipients of its prestigious US $10,000 seed grants. These grants have been awarded to 11 exceptional green businesses who were part of the 2nd cohort of the Incubator program and have demonstrated outstanding commitment and innovation in the field of sustainability.
The 11 green businesses to receive the US $10,000 seed grants are as follows:
Antigua and Barbuda – Down To Earth Vermicompost Farm
Down To Earth Vermicompost Farm is a recycling facility in Antigua and Barbuda that focuses on waste reduction by converting food scraps and other compostable waste into organic vermicompost and liquid fertilizer.
Dominica Eclat Nova Luxuries
Éclat Nova Luxuries is a sustainable brand which specializes in organic, natural, plant-based handmade skincare and eco-living products for homes and corporate spaces.
Grenada Isle Bee Well
Isle Bee Well is a honeybee agro-processing and wellness business that is adding value to Grenada's Honey Industry by incorporating primary hive materials (such as Honey, Beeswax, Pollen and Propolis) into secondary products like Personal care/Cosmetics, Cosmeceuticals, Health snacks and Handcrafts— in the context of Sustainability, Holistic Wellness and Sound Science.
Saint Lucia Narrow Way Life
Narrow Way Life provides organic local produce, sustainable living seminars, health lectures, retreat, cooking classes, skills training, and property evaluation for development of sustainable homesteads.
St. Kitts and Nevis Organico869
Organico869 takes pride in its holistic view to circular agricultural production by incorporating crop production and vermicomposting for a more ecofriendly environment.
St. Kitts and Nevis WZSKN Poultry Pro
WZSKN Poultry Pro is a solar – powered egg production farm that produces top quality eggs and sun-dried, beautifully structured poultry manure pellets for the effective growth of garden vegetables in a socially conscious environment.
St. Vincent & the Grenadines The Plant Doctor
The Plant Doctor seeks to help farmers safeguard regional food security by providing readily accessible inputs to sustainably improving their yield and reducing the negative effects caused using petrochemicals.
St. Vincent & the Grenadines Grenadines Gold
Grenadines Gold provides authentic island experiences and eco-friendly products that are made from ethically grown sea moss.
St. Vincent & the Grenadines SUS-Edibles
SUS-Edibles business plans to provide healthy local dried fruits, vegetables and herbs by using solar photovoltaics (PV) panels as our green alternative energy source to ensure lower production costs.
St. Vincent & the Grenadines Arubana Retreat
Arubana Retreat grows your love for nature by providing eco-friendly accommodation and activities that bridges the gap between traditional camping and the comforts of home with a touch of luxury.
St. Vincent & the Grenadines Vermigold
Vermigold provides valuable and exceptional organic and eco-friendly fertilizers for healthy plant development by using the invasive sargassum while protecting our beaches, ecosystem and promoting a sustainable tourism industry.
Each of these deserving businesses has demonstrated exceptional potential in their respective fields, showing a clear commitment to sustainability and a desire to make a positive impact on the environment. The seed grants will provide crucial financial support to help them further develop their ventures and scale their operations.
"We are thrilled to announce the recipients of the US $10,000 seed grants for the 2nd Cohort of the Eastern Caribbean Greenpreneurs Incubator Program. These businesses have shown great promise for driving sustainable change in our region. Through this program, we aim to empower them to achieve even greater heights, fostering a future where green innovation thrives. We extend our heartfelt congratulations to each of the winners and look forward to supporting their growth and impact in the years to come" commented Dr. Kristin Deason, Caribbean Representative, GGGI.
The Eastern Caribbean Greenpreneurs Incubator program is a free, carefully curated training and mentoring program designed to support green entrepreneurs to build robust and sustainable business models, and the skills, tools, and confidence to implement them for success. The program featured a 12-week virtual green business training based on the lean start-up methodology, a mentorship program 1-on-1 coaching and networking opportunities culminating in the Business Plan Competition. The program is part of the Eastern Caribbean Greenpreneurs Initiative which was launched in 2021 and is being implemented by the Global Green Growth Institute in collaboration with the OECS Commission with funding from the Qatar Fund for Development (QFFD). The initiative also features a green business Accelerator Program, which supports established green business through interest-free loan financing and access to a green investor network.
For more information on the Eastern Caribbean Greenpreneurs Initiative, and the awarded businesses, please visit www.caribbeangreenpreneurs.com.
---
About the Global Green Growth Institute (GGGI)
Based in Seoul, GGGI is a treaty-based international, inter-governmental organization- with 44 Members and over 20 countries and regional integration organization(s) in the process of accession - dedicated to supporting and promoting strong, inclusive, and sustainable economic growth in developing countries and emerging economies. With operations in over 30 countries, GGGI serves the role of an enabler and facilitator of Members' transition into a low-carbon green economy, providing policy advice and technical support in the development of green growth plans, policies and regulations, mobilization of green investments, implementation of green growth projects, and development of local capacities and knowledge sharing. Further information on GGGI's events, projects and publications can be found on www.gggi.org.
About the Global Green Growth Institute (GGGI) - Caribbean
​
​The OECS is a Member of GGGI as a regional body. This membership allows GGGI to work in close partnership with the OECS Commission at the regional level, as well as directly with the governments of the 11 OECS member states at the national level. GGGI maintains an embedded staff presence at OECS headquarters in Saint Lucia and to date has delivered programs in partnership with the governments of Grenada, Dominica, Antigua and Barbuda, and Saint Lucia. Further information can be found at https://www.gggi.org/country/caribbean
For further information visit: https://gggi.org/country/caribbean/
Dinesh Daswani Communications, Global Green Growth Institute (GGGI)
OECS Communications Unit Organisation of Eastern Caribbean States