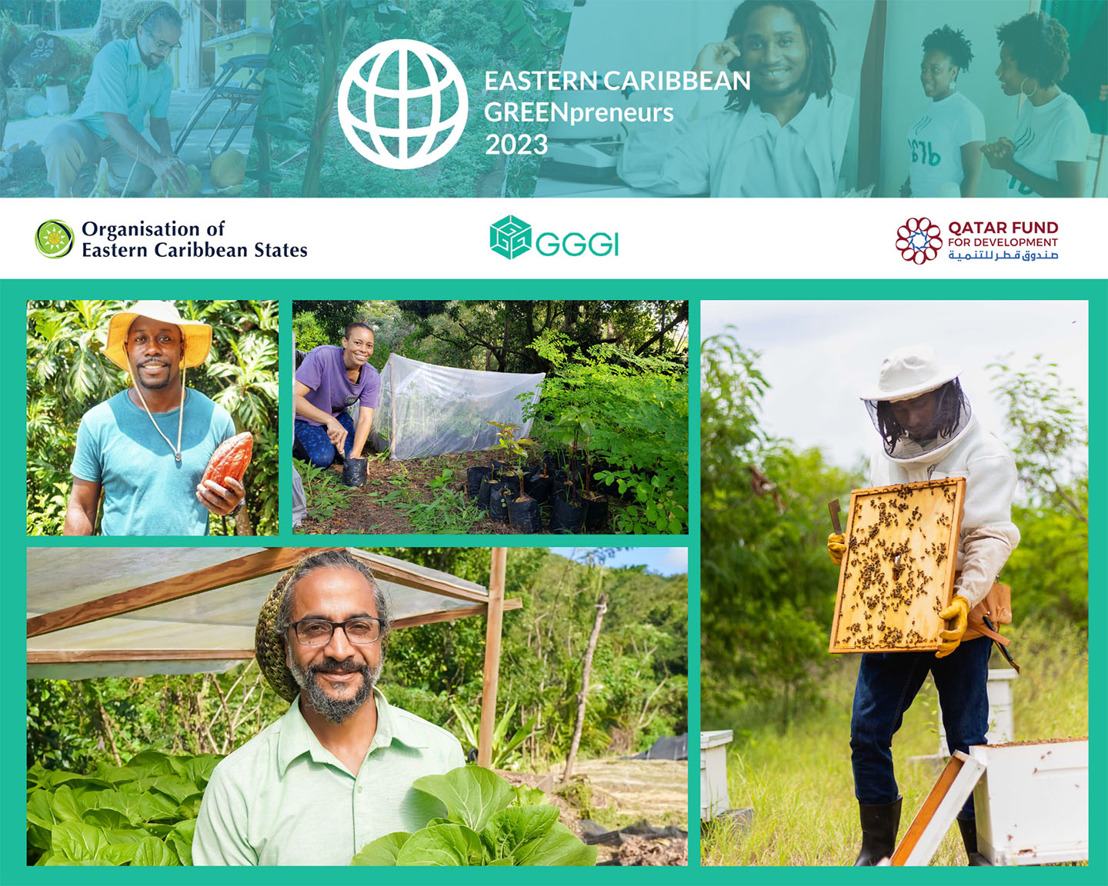 Eastern Caribbean Green Entrepreneurship Initiative Opens Applications for Third Cohort of Incubator Program
Media Release courtesy GGGI
March 8, 2023 — The Eastern Caribbean Green Entrepreneurship Initiative (EC Greenpreneurs) is proud to announce the launch and call for applications for the third cohort of its Incubator program, aimed at supporting green entrepreneurs in the Eastern Caribbean region. Following the success of the first two cohorts in 2021 and 2022, the program once again seeks to help early-stage businesses with environmentally and socially sustainable business models to grow and scale their enterprises.
Through the program, the Global Green Growth Institute (GGGI), in partnership with the Organisation of the Eastern Caribbean States (OECS) Commission, provides 12 weeks of virtual training, mentorship, coaching, and networking opportunities to green entrepreneurs in six OECS countries (including Antigua & Barbuda, the Commonwealth of Dominica, Grenada, Saint Lucia, St. Kitts and Nevis, and St. Vincent and the Grenadines). The selected individuals and/or teams also have a chance to secure USD $10,000 in seed funding through a Business Plan Competition to further develop their potential and showcase innovative solutions to tackle climate change while enhancing sustainability in the region.
The Eastern Caribbean Greenpreneurs program is funded by the Qatar Fund for Development (QFFD) and branches off from GGGI's Global Greenpreneurs Program. This crucial regional program aims to foster the development of local green businesses and bring additional benefits of creating inclusive green jobs, improving sustainability, and helping the Eastern Caribbean countries achieve the global Sustainable Development (SDGs) and their national climate action goals.
"We are very excited to launch and receive applications for the third cohort of the Eastern Caribbean Greenpreneurs Incubator program and to welcome a new group of innovative and dedicated green entrepreneurs," said Dr. Kristin Deason, GGGI's Caribbean Representative. "This program has a proven track record of helping green startups overcome challenges, develop their business models, and increase their growth potential. We look forward to seeing the continued positive impact that these businesses will have on our environment and the economy in the region".
In the first and second round of the program, 36 teams benefitted from weekly mentoring sessions, networking events and virtual training webinars which enabled their ideas to scale and grow. Nine teams so far have been awarded USD $10,000 each in seed grants after their successful completion of the Business Plan Competition to further boost their progress. (see bit.ly/ecgreenpreneurs)
"The program helped our business really network and see what other people across the Caribbean are doing. It's good to see other blue/green entrepreneurs, people doing things with great impact, and it has been such a pleasure to be part of this program," commented Lavern King from Grenadines Gold, a company providing authentic island experiences and eco-friendly products that are made from ethically grown sea moss in St. Vincent, and the Grenadines, and a participant in the second cohort of the Incubator program. (see www.grenadinesgold.com)
The application period for the third cohort of the EC Greenpreneurs Incubator program is NOW OPEN and will close on April 9th, 2023. Interested green entrepreneurs can apply online at bit.ly/ApplyECIncubator.
Visit our website caribbeangreenpreneurs.com to find out more information.
---
Global Green Growth Institute – Caribbean
​Website: www.GGGI.org/country/caribbean
Twitter:@GGGICaribbean
​Facebook: @GGGICaribbean
About the Global Green Growth Institute (GGGI)
Based in Seoul, GGGI is a treaty-based international, inter-governmental organization- with 44 Members and over 20 countries and regional integration organization(s) in the process of accession - dedicated to supporting and promoting strong, inclusive, and sustainable economic growth in developing countries and emerging economies. With operations in over 30 countries, GGGI serves the role of an enabler and facilitator of Members' transition into a low-carbon green economy, providing policy advice and technical support in the development of green growth plans, policies and regulations, mobilization of green investments, implementation of green growth projects, and development of local capacities and knowledge sharing. Further information on GGGI's events, projects and publications can be found on www.gggi.org.
About the Global Green Growth Institute (GGGI) - Caribbean
The OECS is a Member of GGGI as a regional body. This membership allows GGGI to work in close partnership with the OECS Commission at the regional level, as well as directly with the governments of the 11 OECS member states at the national level. GGGI maintains an embedded staff presence at OECS headquarters in Saint Lucia and to date has delivered programs in partnership with the governments of Grenada, Dominica, Antigua and Barbuda, and Saint Lucia. Further information can be found at https://www.gggi.org/country/caribbean (GGGI Caribbean)
Dinesh Daswani, Communications, Green Growth Planning, and Implementation +1-758-485-1888
​[email protected]
Dinesh Daswani Communications, Global Green Growth Institute (GGGI)