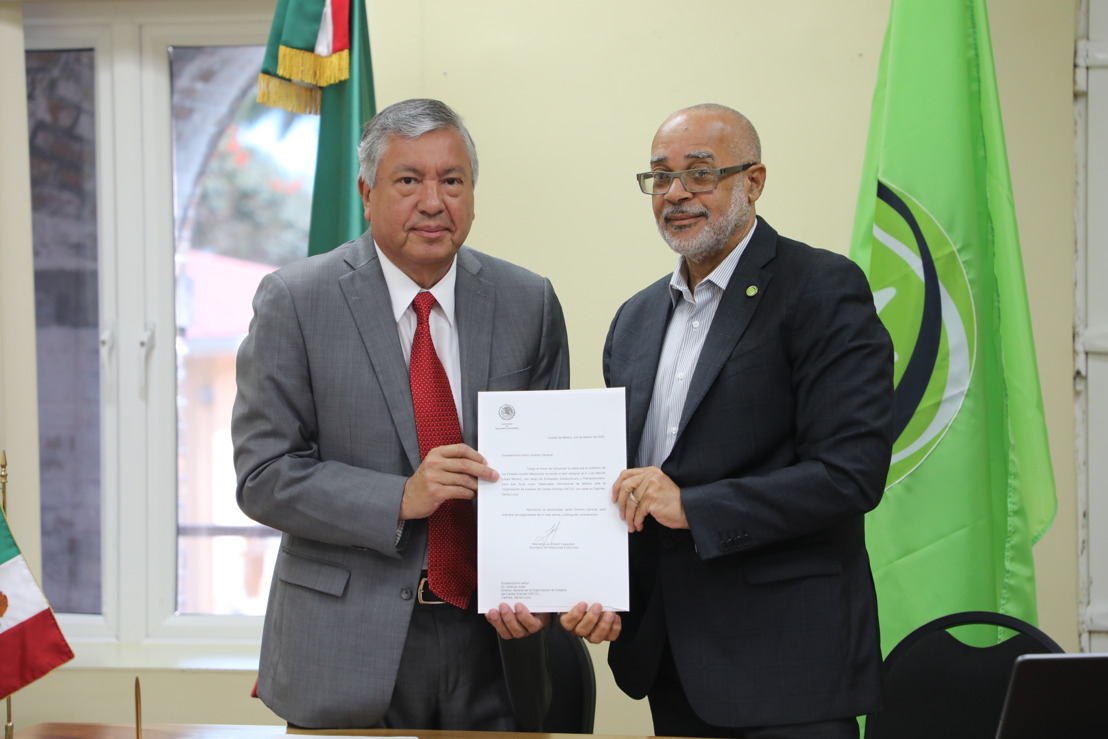 Ambassador of Mexico to the OECS presents Credentials to the OECS Director General
OECS Media Release
Thursday, March 30, 2023 — The Ambassador of the United Mexican States to the Organisation of Eastern Caribbean States (OECS), H.E. Luis Manuel López Moreno presented his Letters of Credence to OECS Director General Dr. Didacus Jules at a ceremony held on Monday March 27, 2023.
Ambassador Moreno expressed great honour in being able to represent his country in the OECS region for a second time, having previously served as Mexico's Ambassador to the OECS. In presenting his Letters to the Director General, the Ambassador conveyed the kind compliments of President Andrés Manuel López Obrador, who he indicated is keenly aware of the work and progress of the OECS, particularly in respect of efforts towards regional integration.
In accepting the Letters of Credence, Dr. Jules extended a warm welcome to Ambassador Moreno. He conveyed his appreciation of the constructive role that Mexico has played and continues to play in the development process of the OECS region. According to Dr. Jules,
"The member countries of the OECS have had excellent diplomatic relations with Mexico and have benefitted from invaluable development assistance and cooperation with Mexico in numerous areas including education, diplomatic training, agriculture, environmental issues, and support in the development of appropriate infrastructure and facilities."
In further acknowledgement of Mexico's contribution to the development of the OECS region, the Director General noted that the OECS-Mexico close friendship is of tremendous importance to the Commission and individual Member States that duly recognize Mexico as a valuable friend and cooperation partner.
In response, Ambassador Moreno informed that
"One of the strategic elements of the Government of Mexico is to promote mutual cooperation for the development of the Caribbean countries; to consolidate Mexico's presence in the region; and to actively participate in addressing the challenges of the regional agenda."
He continued,
"Mexico shares with the Organisation and its Member States, the values of integration, democracy and solidarity and wishes to remain a reliable partner for the development of the OECS and its Members States"
During a courtesy meeting that immediately followed the Ceremony, the Director General and the Ambassador exchanged views on a number of possible new areas for development cooperation initiatives between the OECS and Mexico, and agreed to commence in-depth discussions on those in the immediate future.
In closing, the Dr. Jules again welcomed the Ambassador to the OECS and pledged the full support of the Commission to further advance the friendship and strategic partnership between Mexico and the OECS.
Formal diplomatic relations between the OECS and the United Mexican States were established in 2009.
Nyus Alfred Communications Officer, Organisation of Eastern Caribbean States
OECS Communications Unit Organisation of Eastern Caribbean States