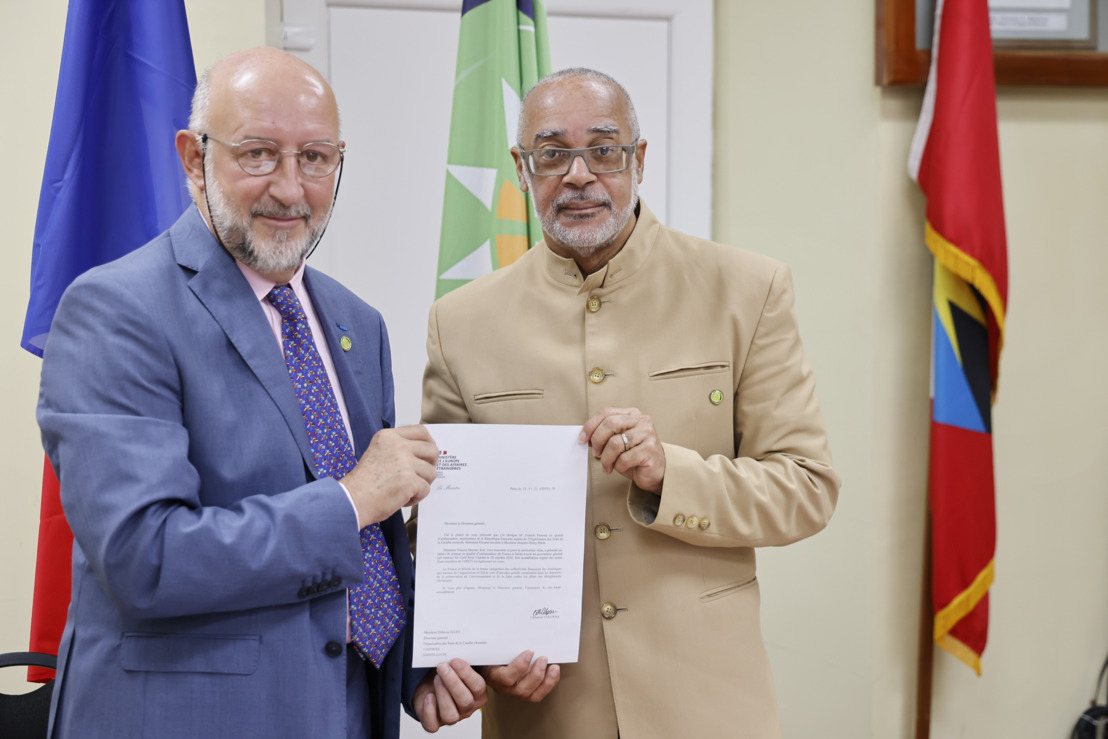 Ambassador of France to the OECS presents his Credentials
Sunday, June 11, 2023 — The Ambassador of France to the Organisation of Eastern Caribbean States (OECS), H.E. Francis Etienne presented his Letters of Credence to the Director General of the OECS, Dr. Didacus Jules at a ceremony held on Wednesday, May 31, 2023.
In accepting the Letters of Credence, Dr. Jules extended a warm welcome to Ambassador Etienne and stated that he was extremely pleased with the level of cooperation between France and the OECS. He further stated that
"The OECS values greatly, France's commitment to strengthening development efforts regionally, and is appreciative of the support received over the years".
The Director General noted that OECS Member States and France have had a long history of cooperation and friendly relations dating back to the early 1990s. He highlighted that the engagements covered extensive regional programs of cooperation in many areas including joint ventures, trade and investment, training in eco-tourism, agriculture, health care, language training, disaster preparedness, energy, climate change and the environment. In conveying the Commission's gratitude, the Director General further stated that
"We continue to be thankful for the tremendous benefits which have accrued to our Member States as a result of the successful implementation of those programmes."
In his remarks, Ambassador Etienne stated that it was an honour to present his Letters of Credence to the Director General. He expressed his pleasure in being the representative of France to the OECS, charged with responsibility to foster collaboration between the Government and people of France and the Organisation.
Speaking on regional integration within the OECS, Ambassador Etienne stated that,
"Regional integration must be our aim, not only for peace but for prosperity. We want our peoples and regions to prosper and therefore we must do everything we can to enhance cooperation between people, institutions, civil societies and governments."
The Ambassador, in closing his remarks, reaffirmed the commitment of France to support the OECS in realizing its extraordinary potential.
During a courtesy meeting held immediately after the Ceremony, the Director General and the Ambassador exchanged views on a number of possible new areas for development cooperation initiatives between the OECS and France, and agreed to commence discussions on those in the immediate future.
Formal diplomatic relations between the OECS and France were established in 2010.
Nyus Alfred Communications Officer, Organisation of Eastern Caribbean States
OECS Communications Unit Organisation of Eastern Caribbean States